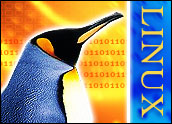 Turbolinux, one of the first-generation Linux vendors to enter the business arena, on Monday announced a new online storage service for its Wizpy device, which was first introduced in June.
The Wizpy, which behaves as a Linux operating system as well as media player, now provides an online storage service fromOmnidrive, the Palo Alto, Calif.-based storage services provider.
Linux to Go
Plug the device into a PC's USB port, and you get the so-called Linux desktop experience. As of Monday, users carrying around this enabler for a "desktop environment" can access Omnidrive storage services.
Industry watchers see such nimble alliances as a sign of the times. Business IT decision makers with limited budgets have had to avoid storage solutions that cost more than they can afford.
However, price is not the only issue and they are wary of how little they might get for how little might pay.
Safety First
"Storage-as-a-service options are becoming increasingly attractive for firms that face intense pressure for data protection, scalability, and compliance to regulation, and response to litigation," Forrester analyst Andrew Reichman told LinuxInsider.
While they can't afford storage solutions used by big corporate customers, they also can't afford to cut corners.
"They can't use watered-down feature sets; their exposure is as much or greater than the big companies," Reichman said. "Vendors that can bring products to market that can safely offload the expense and complexity of storage are likely to see significant traction."
Big in Japan
The Turbolinux announcement comes at the same time of the signing of a collaboration agreement between The Linux Foundation and a Japanese government research institute (IPA).
The announcement underscores the present-day focus on open source in Japan.
According to the Linux Foundation, key examples of that focus are the increasing use of Linux in consumer electronics devices manufactured in Japan and the Tokyo Stock Exchange's choice of Linux.
Hanoi Project
The Wizpy, meanwhile, is in government use. In May this year, the Japanese government distributed the Wizpy to students at the Hanoi University of Technology, according to Turbolinux.
The students used the Vietnamese version of Wizpy in connecting to PCs in the classroom, and they proceeded in a project in which they evaluated open source applications.