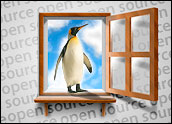 Linspire released its Linspire 6.0 Linux distribution, which contains a mix of open source and proprietary drivers and software and is the first commercial offering from Linspire to provide customers with Microsoft patent covenants.
There was only one word missing that could have made the announcement complete: controversial.
The patent covenants follow an agreement signed between Microsoft and Linspire in June. Patent covenants are language that gives a customer assurance that Microsoft won't sue over intellectual property or patent violations.
Losing Bet
Since the foundation of the Linspire distribution is Ubuntu Linux, Canonical, the commercial sponsor of the Ubuntu project, found itself in June fending off speculation that it would follow Linspire, Novell and Xandros and strike a deal with Microsoft.
With Linspire's new release, is Canonical any closer to speaking with Redmond?
"We, through Mark Shuttleworth, have been pretty clear on our stance in this," Canonical's Gerry Carr, marketing manager, told LinuxInsider. "The best thing I can do is point you to Mark's blog on the subject. Our position has not changed."
Shuttleworth, Ubuntu founder and head of Canonical, took to his blog earlier this year to express his distaste for the covenant principle.
"A promise by Microsoft not to sue for infringement of unspecified patents has no value at all and is not worth paying for," Shuttleworth wrote. "It does not protect users from the real risk of a patent suit from a pure-IP-holder."
"Microsoft itself is regularly found to violate such patents and regularly settles such suits. People who pay protection money for that promise are likely living in a false sense of security," he pointed out.
Proprietary Mix
The present-day cadre of open-source software vendors doing deals with Microsoft believe that they are driving links between Microsoft and open source software in the name of customer satisfaction and the Holy Grail of interoperability.
Linspire 6.0 bundles proprietary software where there are no viable open source alternatives, according to the company announcement.
The release offers MP3, Real, Java, Flash, ATI, nVidia, WiFi and technologies from Microsoft — Windows Media, True Type Fonts.
Format Translation
"Linspire will join with Novell Inc., Microsoft and other companies to develop and distribute open source-licensed translators that allow OpenOffice and Microsoft Office users to better share documents," according to the Linspire announcement.
This will enhance customer choice by enabling translation between Microsoft Office Open XML (OOXML) and Open Document Format (ODF) documents, Linspire said.
Shuttleworth, meanwhile, distances himself from those who rail against deals on the mere premise that Microsoft is Microsoft. It's not useful to characterize any company as "intrinsically evil for all time," he wrote.
"But I don't believe that the intent of the current round of agreements is supportive of free software," he continued, "and in fact I don't think it's particularly in Microsoft's interests to pursue this agenda either. In time, perhaps, they will come to see things that way too."