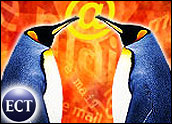 IBM unveiled a new line of Linux servers Monday, noting that it will specifically target entry-level users with competitive pricing. The company will be competing with entry-level Unix and Linux platforms developed by Sun Microsystems and Hewlett-Packard.
Paul Rivot, IBM's director of database servers and business intelligence, told LinuxInsider that the company has been eyeing the entry-level Linux server market for some time. "We're seeing Linux grow so fast, and gain a large foothold in smaller organizations," he said. "It's only natural that we'd move toward being able to provide products for those users."
The main product in the lineup, the eServer OpenPower 720, will be available starting Thursday, and is based on the company's Power5 microprocessors.
Nuts & Bolts
The OpenPower 720 systems will be shipping with a three-year warranty and a starting list price of US$5,000. The systems will be available with either 1.5 GHz or 1.65 GHz Power5 microprocessors.
The 720 will be available with Red Hat or Novell's SuSE distributions, and can be ordered in either a four-way rack or tower option with maximum memory of 64 GB.
The company has stated that OpenPower will help customers lower operational costs through its virtualization option, a component of IBM's Virtualization Engine, formerly found in higher-end systems. The virtualization option is designed to provide better performance with lower system use.
In the past, IBM has offered Linux as an option on its pSeries Power4 line, and has also offered Linux in certain partitions on its iSeries products. However, the OpenPower servers have been specifically designed to run only Linux operating systems, and were created with lower pricing in mind.
IBM already has plans to expand the line. The company announced that in the first half of 2005, it will introduce a two-way OpenPower system.
Linux Love
The new servers could further establish IBM as a Linux provider to all levels of users, noted Rivot. He added that enterprises large and small are more comfortable with investigating Linux for mission-critical work, which marks a change from just a few years ago.
"People are looking at Linux for their homegrown applications, as well as other things like database application and Web services," Rivot said.
By providing entry-level servers, IBM hopes to establish a presence among first-time Linux users and maintain those relationships as the companies scale up.
"We can support users at each stage of their growth with Linux," said Rivot. "That's important for customers who might have been hesitant to try Linux in the past because they worried about migration."
IBM has made several other moves toward showing its Linux support, including the introduction of worldwide Linux centers. Recently, the company noted that it owns about 60 patents on which the Linux kernel potentially infringes, but that it has vowed not to use its patents against Linux.
Also, IBM just donated speech technology code to the Apache Software Foundation and software tools to the Eclipse Foundation to boost development of open-source speech recognition applications.
Such widespread strategies, coupled with the introduction of the new servers, indicate the depth of IBM's Linux committment, Rivot said. "Linux is a large component of the future," he noted. "And we're part of that future."
Heated Competition
As IBM pushes its OpenPower line, it might find Sun and HP pushing back. Yankee Group analyst Laura DiDio told LinuxInsider that the competition in the entry-level server market is especially fierce.
"Microsoft has lost some of its share because of Linux," she said. "People that were deciding between Microsoft and Unix have now started to look more closely at Linux."
One advantage that IBM may have over competitors is that it has put a great deal of energy into building its services, which many enterprises may find attractive, DiDio said.
"To realize revenue, you have to charge fees for service," she noted. "As Linux gains traction, you're going to see companies like IBM charging premium prices for training, service and support."