Canonical on Monday announced a US$32 million campaign to crowdfund the creation of Ubuntu Edge, a brand-new smartphone that dual-boots Ubuntu phone OS and Android.
Launched on Indiegogo, the month-long campaign focuses on funding a limited production run of 40,000 devices. Backers committing $600 before 8 a.m. PDT on Tuesday, July 23, or $830 thereafter will receive one an Ubuntu Edge device in May 2014. [*Correction – July 22, 2013]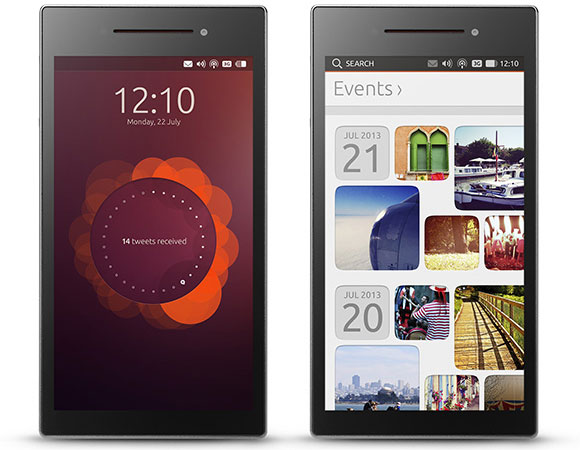 The Ubuntu Edge will transform into a PC when docked with a monitor, with a full Ubuntu Linux desktop and shared access to all the phone's files.
'A Taste of the Future'
"To make the future of mobile happen we'll have to smash every record in crowdfunding history," said Ubuntu founder Mark Shuttleworth. "But if there are enough enthusiasts who want the ultimate in performance, storage, screen, battery and bandwidth, Ubuntu Edge will be the catalyst for awesome innovation, and a taste of the future of the phone."
Assuming it gets funded, the slim, sharply angled Ubuntu Edge phone will feature a quad-core CPU and at least 4 GB RAM along with 128 GB of storage. Its 4.5-inch, 1,280 x 720 display will be coated with scratch-resistant Sapphire crystal glass.
With an 8mp rear camera and a 2mp front camera, the device will offer dual-LTE, dual-band 802.11n Wi-Fi, Bluetooth 4 and near field communication capabilities. Stereo speakers will boast active noise cancellation.
Rallying the Community
Crowdfunding is "a great approach to rally a community of savvy users that are hungry for new technologies and look forward to test-drive them," Victor Palau, vice president of mobile delivery at Canonical, told LinuxInsider.
"New technologies are available but do not have a trial ground to be proven before making it into high-volume production," Palau explained. "The Ubuntu Edge campaign aims to catalyze mobile innovation as well as hardware and software development.
"By supporting Ubuntu Edge, consumers will be accelerating the adoption of new technologies in mass-market consumer phones," he added.
'That's a New One'
"This is pretty shrewd," Chris Hazelton, research director for mobile and wireless at 451 Research, told TechNewsWorld. "It's a very competitive market, so this is a risky venture, but getting that funding beforehand and having the cash in hand makes it less risky and demonstrates demand."
The crowdfunding approach has already been used for accessory development, but "not so much in the handset space," Mike Morgan, senior analyst for mobile devices with ABI Research, told TechNewsWorld. "That's a new one. It's a very interesting social experiment for getting this to happen."
There's no denying that $32 million is an ambitious crowdfunding goal, but "generally the range for launching a mobile device is $50 million," Hazelton pointed out. "So they are doing it in a very cost-focused manner."
An Enterprise Bundle
The driver for the effort, meanwhile, "is really the idea of one device — the dream of the smartphone to replace the laptop," Hazelton explained.
Of course, that notion "hasn't been extraordinarily successful for Microsoft," Morgan noted.
In any case, one key difference between Ubuntu's effort and Mozilla's with its Firefox OS are that Ubuntu's targets include enterprise users, Hazelton suggested.
Indeed, included among the funding options on Indiegogo is an $80,000 "Enterprise Bundle" including 100 phones and 30 days of online support.
'Super Early Adopters'
"Canonical is targeting both enterprises and consumers with Ubuntu Edge," Canonical's Palau said. "It offers the full Ubuntu desktop that is already popular with enterprise users. Enterprise users just need one device for mobile and desktop computing and can access applications over thin client and the full Ubuntu desktop OS when connected to a monitor."
However, the device is also for "enthusiasts that don't want to wait," he added. "They're super early adopters that want to get their hands on cutting-edge technologies as early as possible."
In any case, "this is a very cool idea," Hazelton concluded, "both the phone but also the funding."
---
*ECT News Network editor's note – July 22, 2013:
Our original published version of this story mistakenly indicated that the $600 price for early backers would expire on Monday.