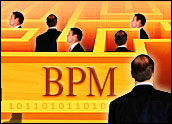 JBoss is throwing its open source weight around in the business process management (BPM) ring, adding a workflow engine to its middleware platform with today's launch of jBPM 2.0.
JBoss will compete with the likes of Oracle, BEA Systems, IBM and Microsoft for its share of a BPM market that Gartner predicts will see moderate double-digit growth, to US$598 million through 2007.
BPM software helps companies automate manual activities.
"JBoss jBPM signifies another major step for JBoss, as we continue to build out a complete open source middleware platform of loosely coupled projects all backed by enterprise-grade services and support," JBoss Chairman and CEO Marc Fleury said.
"JBoss is in the business of making open source a safe choice for the enterprise, and as we expand, we are delivering more alternatives than ever to companies looking for innovative and cost-effective software."
Shooting for Simplicity
The jBPM approach to workflow focuses on the capabilities of the core BPM engine, the company said, and is designed to make bundling jBPM into other development projects easy by providing a simple mechanism to start with a simple state machine. It is also designed to scale to complex workflow patterns.
JBoss hired Tom Baeyens, founder and lead developer of jBPM. Baeyens will serve as a full-time architect to oversee the evolution of what the company calls a critical piece of its middleware platform that will be used in other JBoss projects to provide additional solutions.
"jBpm has gained tremendous traction since the project's start more than two years ago, but our success has also made support and services an often challenging task," Baeyens said.
"With JBoss behind us, we have the opportunity to take jBpm, now JBoss jBPM, to the next stage of growth and provide a full range of services and support around it."
Working Way Up
For all the JBoss marketing hype, some analysts view the introduction of the new software as little more than a necessary move to keep the vendor on the shortlist of companies seeking higher level middleware solutions.
"You could think of it as moving JBoss up the stack," Ron Schmelzer, a senior analyst at Zapthink, told LinuxInsider. "All of the so-called application server vendors aren't doing just application servers anymore. Application server vendors are trying to work their way up the stack to help people build applications. It was just a matter of time before JBoss stepped up to the BPM plate."