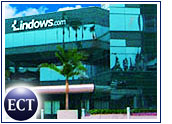 Lindows has announced the release of a package containing the latest versions of three popular Linux operating systems. Linspire, Fedora and Mandrake are in the bundle, which has been named the Desktop Linux Comparison Kit.
According to Lindows, the three systems were chosen on the basis of their product completeness and commercial familiarity. Lindows puts out one of the systems in the kit, Linspire, and offers online support for the product.
The bundle comes with CDs of the most current software in a digital format or a boxed version, and is priced at US$29.95 and $39.95 respectively.
Kit and Caboodle
Although each product was picked for the bundle because of familiarity, Lindows does note that each has unique properties that made it desirable for the kit.
Linspire was selected for its ease of use and extensive feature set, while Mandrake has a well-established following among technical professionals. Fedora was chosen because it is especially tuned to interoperate with Red Hat's Linux server software.
The kit features 4 GB of software as well as a checklist to help evaluate the products according to ease of installation and use. Also featured is media playback, plug-and-play hardware device detection, and virus checking.
The company noted that upon completion of using the comparison kit, users will have a good understanding of which mainstream Linux version best suits their needs.
Other benefits to the Linux shootout include education about how to install application software on Linux, how to assess the viability of Linux software, such as OpenOffice, and ways to test multimedia support across a wide variety of popular file types.
Shootout in the Linux Corral
In creating the package, Lindows has attempted to make it fairly painless to compare the products with each other. All three distributions can be installed on the same machine, using separate partitions or hard drives. There is some manual configuration required, however, that is not recommended for those new to Linux.
Lindows also noted that all three distributions can be installed on more than one machine. Because each system comes with friendly licensing, the distributions are allowed on multiple machines for personal use.
Once the installations are complete, Lindows recommends testing features that are most likely to be used by whoever is doing the comparison.
Will People Pay?
IDC program vice president Dan Kusnetzky said in an interview with LinuxInsider that the tactic is a business model that is worthy of notice.
He pointed out that the operating systems in the kit contain only core capabilities, and whatever else a consumer would want for Linspire is available for download from the Lindows site for a fee.
"This looks like an interesting, but somewhat controversial, way to monetize open-source technology," he said.
The controversy arises, he said, when it is pointed out that all of the software that Lindows is making available is also available at no cost elsewhere.
"The question these people ask is why pay Lindows for software that is freely available elsewhere or is already packaged in Red Hat's, SuSE's or even Sun's desktop software?" he added.
Future Trend
As Linux moves from being a hobbyist's toy to a commercial tool, some analysts believe that there will be plenty of companies willing to pay for products that can be had for free otherwise.
Yankee Group analyst Laura DiDio told LinuxInsider that as Linux gains traction, there will be many companies like Lindows that put costs into the equation.
"These companies will be charging premium prices for preferred services, like training and support," she said. "They will also include limited product warranties and indemnification."
She noted that because companies are comfortable paying for such services, Lindows will find a healthy audience for its thee-in-one Linux kit.
"It certainly has a great appeal, to put them together for comparison purposes," she said. "If you're going to a CXO or network manager who's responsible for deploying this stuff, they're going to ask you about business viability. If you have all three products together, you can answer that question."