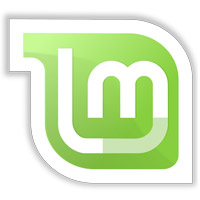 Linux Mint no longer may be an ideal choice for above-par performance out of the box, but it still can serve diehard users well with the right amount of post-installation tinkering.
The Linux Mint distro clearly is the gold standard for measuring Cinnamon desktop integration. Linux Mint's developers turned the GNOME desktop alternative into one of the best Linux desktop choices. Linux Mint Cinnamon, however, may have lost some of its fresh minty flavor.
The gold standard for version 19.1 Tessa seems to be a bit tarnished when compared to some other distros offering a Cinnamon environment. Given that the current Linux Mint version was released at the end of last December, it may be a bit odd for me to focus on a review some five months later.
Linux Mint is my primary driver, though, so at long last I am getting around to sharing my lukewarm experiences. I have run Linux Mint Cinnamon on three primary work and testing computers since parting company with Ubuntu Linux Unity and several other Ubuntu flavors many years ago. I have recommended Linux Mint enthusiastically to associates and readers in my personal and professional roles.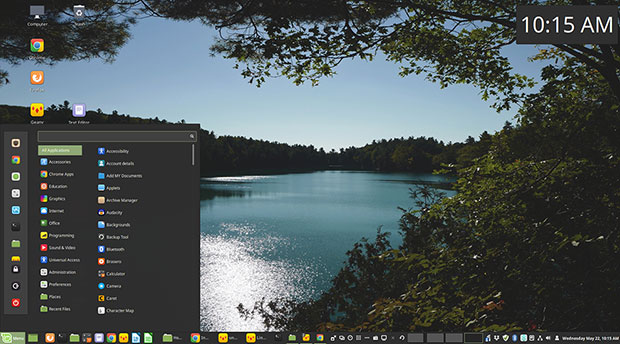 The Linux Mint Cinnamon desktop lets you place launch icons and screen desklets on the desktop and applets on the panel bar for added functionality.
---
However, my ongoing dissatisfaction with Tessa has led me to rethink my continuing allegiance. I've patiently waited for a kernel or core component upgrade to fix what has been giving Linux Mint a less than cool taste, at least for me. As I have waited, updates have come and gone — but not the fix for the maladies that linger within.
Comparing Tessa's performance with a few recent distros that run the Cinnamon desktop apparently caused the self-appointed Mint police on a Linux Mint community forum to vilify my views. More on that situation later.
Linux Mint is an Ubuntu-based distribution that comes with four choices to provide a classic desktop experience. Version 19.1 (Tessa) is based on Ubuntu 18.04 Bionic Beaver and is scheduled to receive long-term support (LTS) until April 2023. It is available in three desktop versions: Cinnamon, MATE and Xfce, as well as a Debian Linux-based offering — LMDE3.
Performance Woes
The problem for some Linux OS reviewers — including me — as well as a cadre of users is that Tessa's performance is not always optimum. Linux Mint requires overly long bootup times. It takes longer to load many applications compared to how quickly the same software loads in other distros.
Lots of stumbling occurred while I was running Tessa on three computers that ran previous versions without encountering those issues. Out of the box, the performance was sluggish. At times the desktop interaction and system activity become unresponsive for fleeting seconds. A collection of little things and a few major annoyances made working with Tessa into an unhappy computing experience.
I deal primarily with the Cinnamon desktop, but the issues were not isolated to it. Some published documents offering "performance booster" tips for Linux Mint include fixes for MATE and XFCE editions.
I got used to the performance malaise to an extent, and I tried to ignore the issues. However, in recently testing other Cinnamon desktop iterations, I noticed that those same issues were not present.
Two that come to mind are Feren OS and Condres OS. There are others.
Cinnamon Itself Remains Tasty
Overall, I consider the Cinnamon desktop to be one of the most configurable and productive desktop options in Linux. Linux Mint's developers worked on numerous improvements in version 19.1, which was a major upgrade from Linux Mint 19.
For instance, they reduced input lag on Nvidia cards and made the window manager feel more responsive when moving windows. Developers made it easy to turn off vertical sync in the System Settings. This delegates VSYNC to your GPU driver.
If that driver performs well, the input lag goes away and performance improves, according to release notes. Again, this might account for some of the performance factors. Maybe not.
The Linux Mint team ported a huge number of upstream changes from the GNOME project's Mutter window manager to the Muffin window manager, a fork of Mutter by the Linux Mint team. Might this be another possible cause for performance issues in 19.1 despite the community's claims that the OS is now more responsive? Again, maybe not.
The code base for Mint 19 is different. Since I really started having issues with LM with the upgrade to 19.1, I suspect that the fly in the Mint ointment landed there.
Waiting, Not Switching
The Cinnamon desktop is the perfect fit for my workflow and computing productivity. Even with the availability of Cinnamon on other distros, I am hesitant to switch players and move to a smaller distro community. I see value in using an OS maintained by a large thriving Linux community that took on open source giants and developed an equally powerful Linux distro alternative.
This is what makes the Linux experience so different than using proprietary operating systems. Linux users have choices. We are not locked into a rigid single computing path.
If one variation of a favorite desktop or distribution style has a problem, users can change distros to try something similar or something very different. Linux applications are mostly interchangeable. So is the data we use.
It is relatively easy to move from one Linux platform to another — or change distros and still be able to keep a favorite desktop environment.
So waiting for fixes seemed a better option than leaving Linux Mint behind, at least for now. Some Linux distro developers put their own unique styles into a particular desktop to make it different or better than plain vanilla versions. That is the case with Linux Mint.
Critical of the Critic
I logged onto the Linux Mint user forum recently to look for helpful hints on solving performance issues. I used my own LM forum user credentials, which are not identifiable with this publication. Of course, I found nothing. What I did find was my name and reference to the Linux Mint-related comments from a few of my LinuxInsider reviews. That is when I discovered the vitriol directed at me.
One of the suggestions made to me in the LM forum was to buy a new computer or upgrade to lots of RAM if I wanted trouble-free performance. Merely upgrading from LM 19 or doing anything other than a clean install on a new computer would have been asking for trouble. The implication was that nobody else had trouble, so whatever was causing my so-called issues must have been my fault.
Really? My computers running Linux Mint all far exceed the recommended hardware requirements. Is Linux Mint falling into the required upgrade path just like Windows 10?
Other user forum comments included the alleged performance troubles I "claimed" to be having were simply my fault because I was obviously a newbie, didn't know what I was doing, or was trying to "get more eyeballs" for my LinuxInsider reviews by making "snide, unsubstantiated comments" derogatory to Linux Mint.
The trolls rejected my polite explanation that I was a long-time Linux Mint user who went from having no issues with earlier versions to experiencing the same issues on the same three computers. Since nobody else had trouble, it must have been me, they suggested. Another suggestion was that maybe I was making up the problems.
One of the sticking points was that in my recent comments about other Cinnamon desktop Linux distros I reviewed, I suggested that they did not have the performance snags and thus might be better alternatives to Linux Mint. In general, the LM forum trolls were angered that anyone — particularly ME — would be so heretical as to make negative attacks on the Great Linux Mint god.
Of course, the Linux Mint god protectors had no way of knowing that LinuxInsider readers on several occasions had conversed with me via email about similar issues they experienced with Linux Mint. They had asked what better options I could recommend for running a Cinnamon-based Linux distro.
I tried to explain to the LM forum naysayers that my comments were neither snide nor unsubstantiated, and that I still used Linux Mint 19.1 Cinnamon, in fact. Of course, the flamers once again insisted that I had attacked Linux Mint unfairly and repeatedly. So I stepped out of the conversation.
Ironically, while the LM forum diatribe was unfolding, I received an email at ECT News Network from a supposed reader who claimed to be interested in my reviews about Linux Mint. She asked me to send her a link of all my published reviews on that topic.
One forum participant actually jumped into the fray to suggest there were performance issues that he had addressed in his own blog about Linux Mint. He posted a link to fixes I could try.
Mixed Success at a Price
That post was very useful and informative. It laid out fixes to try for all three Linux Mint Tessa desktops. I tried several of the suggested tweaks, and the improved performance speed was enough to salvage my faltering relationship with Linux Mint.
I noticed what appeared to be a pattern in the tweaks. Many of them address default settings. That makes perfect sense, since other than adding a few favorite applets to the Cinnamon bottom panel after installation, I had made few changes. I had not ventured to change the look-and-feel factors.
One major tweak involved overriding the memory swap settings. The speedup tips for Tessa noted that by default the "swappiness" factor (aka the inode cache) was set to 60. The suggested fix was to reduce the size to 10. The tweak tips author noted that this area was the "absolute number one" fix to try.
That process involved typing a string of commands into a terminal and rebooting the computer. It worked! Booting time still takes longer than booting other distros, but the overall system responsiveness definitely was improved.
LibreOffice presented a glaring example of unacceptable performance. Before the swap tweak, it took two minutes or more to load a document or spreadsheet. Subsequent reloads took a bit less time. Now that loading time interval is cut down by at least half the time.
Applying other speedup tweaks also improved performance system-wide, but those tweaks came at a price. The adjustments involved turning off most of the visual effects, such as animations. That resulted in turning Linux Mint into more of a plain vanilla experience without many of the special effects that made Linux Mint's integration of Cinnamon, MATE and XFCE different from the rest.
---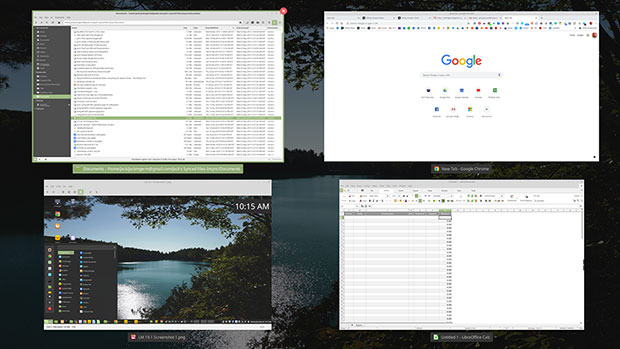 Scale and Expo views of running applications on multiple desktops are among the special effects not hampered by tweaks to speed up Linux mint 19.1 Tessa.
---
Bottom Line
I'd love to hear about your experiences in using the Linux OS. Use the link below to offer your perspective in our Reader's Comments section.
If you now use or in the past used Linux Mint, what can you share about your experience with its performance?
Do you think distro developers should be more forthcoming with users in addressing issues such as how to tweak their distribution for better performance?
Want to Suggest a Review?
Is there a Linux software application or distro you'd like to suggest for review? Something you love or would like to get to know?
Pleaseemail your ideas to me, and I'll consider them for a future Linux Picks and Pans column.
And use the Reader Comments feature below to provide your input!