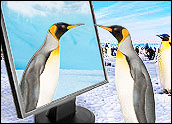 Good OS, developer of the gOS Linux operating system, announced its latest endeavor Monday, dubbed "Cloud." The new operating system, unlike most OSes, actually boots into a browser. From there, the user may surf the Web or go to a traditional Windows or Linux operating system.
The new OS integrates a Web browser with its compressed Linux OS kernel for immediate access to the Internet, integration of browser and rich client applications, and full control of the PC from within the browser, Good OS said.
"The Cloud OS and Good OS are interesting, and they definitely mark a trend toward a more lightweight, nimble, browser-based OS approach for mobile devices, particularly netbooks and MIDs (mobile Internet devices)," Jay Lyman, an analyst at The 451 Group, told LinuxInsider.
Cloud will debut on a Gigabyte Touch Screen Netbook at the Netbook World Summit as well as the Consumer Electronics Show in Las Vegas. The systems, preloaded with Cloud and Windows XP, will roll out early next year.
Expanding Web
The OS includes a browser with an icon dock for shortcuts to favorite applications, tabs for multi-tasking between Web and rich client applications, and icons to power off or boot into Windows for desktop apps.
So, why take the OS from the desktop to the browser?
Many applications now function inside the browser. Google Docs, for example, will run a word processing program from inside a Web browser, regardless of which platform the browser is running on. Cloud aims to help users organize their Web applications and make them available easily, clearly and within seconds, said David Liu, founder and chief executive officer of Good OS.
"Increasingly, people are switching to browser-based apps. Good OS Cloud provides a friendly icon dock inside the browser that gives users fast shortcuts to their applications. Cloud also eliminates the sometimes painfully long time it takes to boot into Windows but if necessary lets users switch to Windows with a single click, or they can just power off," he told LinuxInsider.
However, while Linux provides an easier base upon which developers can create application framework such as Cloud, Liu noted that the OS is intended to complement Windows — not replace it.
"Many users already are spending much of their computing time using browser-based applications. Yet there is a strong existing IT infrastructure based on Windows. A browser-based OS like Cloud makes it easy for both to co-exist, while giving the user the ability to choose where they want to be at the click of a mouse," he explained.
A Growing Trend
Operating systems such as Cloud reflect other OS trends, such as resource efficiency and reliance on connectivity rather than client software, Lyman pointed out.
"These trends are also part of the server and traditional desktop OS market, and we can look forward to faster boot times and choice of OS — and multi-OS — based on application and computing needs as a result," he continued.
Will these browser-based OSes spell the end of Windows and other operating systems? Probably not, but they will be an option.
It would probably be more accurate to say "a future" of operating systems which will be tuned and evolved in different ways for different markets, Lyman said.