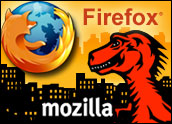 Mozilla Labs launched a new prototype Tuesday aimed at giving Internet users new ways to create mashups of online content. Dubbed "Ubiquity," the technology is Mozilla's solution what it sees as a common and time-consuming problem Web surfers face when they try to compile information from the Web.
"Most people do not have an easy way to manage the vast resources of the Web to simplify their task at hand. For the most part they are left trundling between Web sites, performing common tasks resulting in frustration and wasted time," Aza Raskin, head of user experience at Mozilla, wrote on his blog.
"For me, the Web is a little bit siloed for a lot of users," Raskin told the LinuxInsider. "There are all of these actions you normally take, but you have to go all over the Web to do them. Even something as simple as seeing something online and wanting to send it to yourself or someone else as an SMS (short message service) — right now that's a pretty painful experience. Lots of clicking, lots of trundling."
Ubiquity, he said, is an exploration of ways users can take mashups to the next level. Whereas right now mashups are very site-centric, Ubiquity is about empowering the user to see their Web their way, Raskin continued.
Commanding the Net
Say, for example someone wants to e-mail a friend about a restaurant neither has been to. Rather than copying and pasting a map from Google Maps and a Yelp restaurant review into an e-mail, users can simply type in simple terms and instruct the browser to collect and add the resulting information itself.
"We have the rudimentary systems of structured natural language commands. You can select something and Ubiq [command the software to] 'translate this to French' or 'e-mail it to Jono.' In both cases Ubiquity is smart enough to realize what 'this' and 'it' refers to, as well as knowing who Jono is — by talking with my Web mail's contact list," Raskin writes.
"It's also smart enough to be able to understand commands like 'map Chicago Comics' and 'yelp Tapas near SF' and give you rich previews and search results to get you where you want to be quickly. Even better, both of those commands let you insert results directly into, say an e-mail you're writing so that you never have to interrupt your chain of thought," he continued.
Rated "E" for Everyone
While downloading Ubiquity 0.1 and using a software designed to imitate something called a "command line" may seem daunting to less technically adroit Internet users, Raskin said the goal is to create a tool that everyone can use.
"It's not yet there, but it is targeted for everyone to be able to use it. Right now Ubiquity is a 0.1 alpha prototype experiment that isn't ready for everyone," he pointed out.
In the future, with input from the Mozilla community, Raskin envisions users being able to use the technology on mobile phones and in the Firefox browser.
"In 0.2 and on the focus there is getting the community to innovate from the edges to start making interfaces that work well for the general population. That might be by being put in the Awesome Bar. The developer of the Awesome Bar started looking at this," he explained.
Raskin expects Ubiquity to enhance the free flow of information that has become a trend with sites such as Twitter. However, that open conduit for information is largely in the hands of developers.
"We're going to see a continuation of that trend, but now we're going to take that power from the hands of developers and put it in the hands of users and users who don't have any technical expertise whatsoever," he said.