There appears to be a new netbook maker on the block. Always Innovating has announced a new touchscreen netbook that purports to offer users four devices in one. The new Touch Book from the Menlo Park, Calif.-based startup weighs in at less than two pounds with an 8.9-inch screen and has a battery life roughly three times longer than most netbooks, according to the company.
The device features a tablet screen with a 3-D touchscreen interface as well as an optional detachable keyboard. It comes preloaded with a customized Linux operating system. The versatile system can be used in a variety of ways — as an ultra mobile personal computer (UMPC), as a portable gaming console, as a video player or as a standalone touchscreen e-book reader.
"The Touch Book is perfect for these tough economic times because you can use it in so many ways" said Gregoire Gentil, founder of Always Innovating.
"You can use it as a netbook computer, a hand-held game machine, or a video player. You can even reverse the keyboard to prop it up on a table in an inverted 'V.' Finally, because it is magnetic, you can remove the keyboard and put the tablet on the fridge to serve as a kitchen computer or digital frame."
Touchy Feely
The Touch Book is the first netbook featuring an ARM processor from Texas Instruments. This enabled Always Innovating to design a system that uses no fans and is virtually heat- and noise-free, according to the company.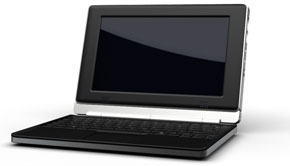 The device also includes two batteries — one in the screen and another in the keyboard. The combination of the low-powered chip and two batteries provides users with up to 15 hours of uptime with the keyboard attached and three to five hours of battery life when using the touch screen alone.
"There are two primary reasons why we are able to get such battery life. First, the ARM processor, which requires less energy. Second, we are able to pack two batteries into the device, one on the screen/tablet and one on the keyboard," Gentil told LinuxInsider.
Home-Cooked Linux
The device also comes with a set of open source applications and runs on "our own flavor of Linux," he said. It also features 802.11b/g/n WiFi and Bluetooth, a 3-D accelerometer, speakers, six USB 2.0 ports — three internal, 2 external and 1 mini — and a microphone and headphone jack.
"However, it is all open, so you can install any OS you want. We've heard from several people that they are itching to install Android on theirs," Gentil continued.
The Touch Book is expected to ship in late spring with a starting price of US$299.