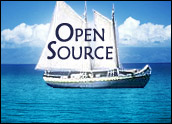 In what could be a victory for Microsoft and a blow to the open source community, the state of Massachusetts has added Microsoft's Office Open XML standard to its list of potential standards it will allow for government use.
The inclusion of Office Open XML came in the latest version of Massachusetts' Enterprise Technical Reference Model (ETRM), a regularly-updated state list of permitted standards. The new ETRM includes "Ecma-376 Office Open XML Formats (Open XML)" as a potentially acceptable open format.
The "Ecma" refers to Ecma International, an industry standardization organization that standardized Office Open XML in December. Office Open XML, often abbreviated as OOXML and sometimes called just Open XML, was created by Microsoft for Microsoft Office 2007 as a proposed open standard for word-processing documents, presentations and spreadsheets that can work on multiple platforms.
Send Those Cards and Letters
OOXML was standardized by Ecma International as Ecma 376 in December 2006, and it is currently being being reviewed by international standards organizations ISO and IEC. The Massachusetts proposal to accept OOXML, even before the ISO and IEC take action, is now open for public discussion and comment. The discussion period ends July 20, and public comments can be submitted to [email protected].
Massachusetts is one of several government entities that are requiring the use of open source applications for tasks including document creation. Forcing workers to use free and open programs, such as OpenOffice, is seen by some as a way to free government from Microsoft's virtual monopoly — with Microsoft Office — on office productivity.
At Least They're Trying
While Microsoft says OOXML is a true effort to give an open source alternative to Office, critics say the program is not truly open, despite the Ecma endorsement. Nevertheless, open source expert and advocate Andy Updegrove believes the Massachusetts Information Technology Department (ITD) should not be harshly criticized for its proposed inclusion of OOXML as an approved platform.
"After all the ITD has been through, perhaps we should just say, 'Thanks, you deserve a rest,'" Updegrove told LinuxInsider. "Massachusetts clearly got the bandwagon rolling, and if OOXML stays in the new draft, the ITD can take credit not only for giving ODF [open document format] credibility, but also for moving Microsoft from where it was this time two years ago — with a proprietary standard — to one that is at least in Ecma and backed by a patent non-assert covenant."
Those passionate about the issue should focus their energy on urging the Massachusetts Legislature and governor to get involved in the matter, Updegrove believes. It's not fair, he said, to ask non-elected bureaucrats, such as Bethann Pepoli, the ITD's chief technology officer, to bear the brunt of public pressure on one side and corporate lobbying on the other.
Under Pressure
"How much pressure has the Massachusetts ITD been under to accept Ecma 376? I've been told by those in the know that the contacts reached all the way to Deval Patrick, our new governor," wrote Updegrove in his blog. "Here, as in the states where legislation was introduced, the point was forcefully and repeatedly made that Microsoft is the kind of company that can provide jobs and other economic support where and as it pleases. And, to be fair, the same points were been made in the past by representatives of IBM and Sun when they have spoke out in favor of ODF."
There remains a chance that Massachusetts' proposed action will be approved and will give state office workers no real reason to use anything other than Open Office XML, Updegrove said. "Office still commands a huge lead in the marketplace, and its ability to outspend the new entrants (many open source) into the office productivity suite marketplace will be enormous," he wrote. "If no one is buying ODF-compliant products, no one will develop them. And if no one is developing them, no one will be competing with Microsoft."
However, Updegrove told LinuxInsider he prefers to look at the bright side.
"I'm a bit more optimistic than that," he said. "This is a comment draft, and if the comments are vigorous enough, wide enough and persuasive enough, they will give the ITD cover. Don't forget this happened once before, when OOXML was in an earlier draft of the ITD and the public comments were what pushed it back out again."