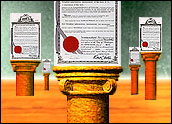 The smartphone industry has caught the sue-me, sue-you flu. Microsoft on Friday filed a patent infringement suit against Motorola related to Android technology. The suit was filed in U.S. District Court in Washington, and also filed with the International Trade Commission.
Microsoft claims Motorola has infringed on nine Microsoft patents with its Android-based smartphones. The patents at issue relate to a wide range of functionality, including synchronizing email, calendars and contacts, scheduling meetings, and notifying applications of changes in signal strength and battery power.
Flurry of Android Attacks
The suit comes at a time when many companies in the smartphone market are getting touchy about their technology.
In March, Apple sued HTC over claims the company had infringed 20 patents related to the iPhone user interface as well as the underlying architecture and hardware. Oracle in August filed a patent infringement suit against Google, alleging that Google developed Android by directly and repeatedly using Oracle's Java-related intellectual property.
The fundamental complaints may all be with Google's open source Android software, even though the attacks are mostly indirect.
"It's all about Google, but they're going after the hardware maker. Except for Oracle, very few have targeted Google," Laura DiDio, principal analyst for ITIC, told LinuxInsider. "Going after Motorola may be easier than going after Google these days. I expect to see more of these suits."
The hardware makers may also be the direct targets because they're the ones hauling in the direct profits.
"I would think the real complaint is with Google, but they sued the handset maker because they're the company who's making money on the technology," Allen Nogee, principal analyst for wireless technology at In-Stat told LinuxInsider. "That's the tricky part, because Google doesn't charge for Android technology."
Your Code Is My Code Is Your Code
Part of the problem with patent infringement claims on software is that any system has miles and miles of code that could have come from anywhere. So it may be difficult to ascertain whether there is any truly original code left.
"A lot of these patents and source codes — they have so many lines of code, it's like dismantling a pyramid to see if there's a violation," said DiDio. "If you look at any source code, it will have something in it that belongs to someone else. A small percentage of it is pure, original code."
Money and Flexing Muscles
The litigation may be a move in a well-orchestrated game, with the players assuming predictable roles.
"I think they tend to do these lawsuits to make it harder on their competitors and maybe to get some money off the competitor," said Nogee.
Another incentive is to lay down a marker to guard against further infringements.
"If a company didn't sue, they may be saying that competitor can do anything it wants," said Nogee. "Plus, if they ignore it now, they won't be able to come back later and sue over more serious infringements."
Is Microsoft a Sore Loser?
The Microsoft suit may also be a market-positioning effort.
"Microsoft is really a dark horse and not a contender in the smartphone market," said ITIC's DiDio. "Microsoft has died a terrible death in the mobile phone market. So a lot of people may look at this as a desperate gambit."
It's also noteworthy that Microsoft is gearing up to release its next wave of smartphone technology, the Windows Phone 7 platform, next week.
"Look at the timing. Microsoft is getting ready to launch," said DiDio. "Clearly this is a tactic to get some leverage. Whether it works or not — we'll have to wait and see."