Motorola appears to be gearing up to release its Android-powered "Sholes" handset in China, kicking into high gear the many rumors that have been circulating in the U.S. about the device.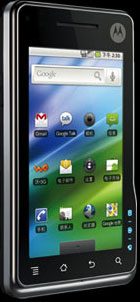 Moto XT701
Dubbed the "Moto XT701," Sholes appeared alongside the previously announced Motorola MT710 on the company's Chinese Web site late last week. The site was later unavailable, but a cached page displaying the unit and full specs was accessible via Google.
A Cortex A8 quad-core processor, a 3.7-inch-wide touchscreen, a 5 megapixel camera with flash and support for 3G are among the features listed for the device, which is frequently referred to as a "tablet." It will also feature 854-by-480-pixel resolution, according to the specs.
Android 2.0 is listed as the operating system for the device. It will feature an 8 megapixel camera. Sholes reportedly will operate on China Unicom's network.
Officials from Motorola could not be reached by press time for confirmation or further details.
'A True Smartphone'
While the Sholes device is often called a "tablet," that's most likely a carryover from earlier reports, Chris Hazelton, research director for mobile and wireless with the 451 Group, told LinuxInsider.
Rather, with full WCDMA support, the device should be "a true smartphone," Hazelton said.
Based on available information, "it has some pretty good specs," Hazelton added. Its 5 megapixel camera with flash, for instance, is "still a very good camera for a smartphone these days."
The Distinguishing 'Hump'
The distinguishing "hump" protruding from one side of the XT701 likely features soft keys for video and stills, Hazelton suggested.
"I'm not a huge fan of the hump, but I think it makes sense when you're holding a camera in landscape mode," he noted.
In general, smartphone users may not leverage their built-in cameras as much as they could because they're not used to orienting the phone in landscape mode, Hazelton pointed out. "This may make it more comfortable and encourage people to take pictures that way," he explained.
FM Stereo and Radio
The Sholes device looks like it will have advanced video capture capabilities, but an HDMI port does not appear to be included, Hazelton added.
A built-in gravity sensor, infrared proximity sensors, GPS, an FM Stereo, FM radio, Bluetooth 2.1 and a 3.5 mm headphone jack are among the other features listed.
Specifications on early versions of the Sholes device had suggested it could be unusually large and heavy, Chris Ambrosio, executive director of wireless for Strategy Analytics, told LinuxInsider. Whether that remains the case is not yet clear.
A 'Linear Evolution'
The fact that Motorola is releasing the device in China first also "makes me wonder what they're trying to do there," he added. "A device like that may have a better opportunity in China, given its price and the costs they're trying to drive out."
In any case, at this early stage in the Android platform, "the operating system is kind of a learn-as-you-go experience for all OEMs, not just Motorola," Ambrosio said. "It does OK, but it doesn't set the world on fire like an iPhone."
There are "exciting things coming down the road" on the platform, he noted, but in the meantime, each device like the Sholes "will be one step in the linear evolution we need to see on Android" in order for it to have a chance of competing with Apple's market leader.