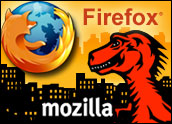 Firefox creator Mozilla is "serious" about creating a version of its browser for use on mobile phones, according to a company official who said the company's goal is to "rock" the mobile Web.
Mozilla is constantly being asked about its plans for a mobile browser, Mozilla engineering vice president Mike Schroepfer said on his blog. The company is creating a Mobile Firefox that will run the popular browser's extensions on mobile gadgets and allow users to build rich applications using the XML User Interface Language (XUL) developed by Mozilla.
"Short summary: we are serious about bringing the Firefox experience and technology to mobile devices," wrote Schroepfer, adding that people should not expect the new browser to appear before next year.
Giving Mobile Its Due
Mozilla realizes that mobile devices now outsell laptops and desktop computers by a wide margin and that there's a need for an open source mobile browser that works better than the current offerings. "A large portion of the world accesses the Internet from mobile devices, and this will become increasingly true over time," noted Schroepfer.
However, most mobile device owners whose units allow Web browsing are forced to use the browsers that ship with the devices. "Each Firefox install is an individual choice by a person to download something that didn't ship by default on their computer," Schroepfer pointed out. "Why not offer that option for mobile devices?"
The company is seeking to break the current paradigm under which software developers tend to treat applications for mobile units as less important than those for computers. "This means we will make core platform decisions with mobile devices as first-class citizens," said Schroepfer.
Gearing Up
As proof of Mozilla's commitment to the mobile browser development, the company is expanding its team of full-timers who focus on the technology for mobile devices. Schroepfer announced the hiring of Christian Sejersen, who formerly was in charge of browsers at Openwave, and Brad Lassey, formerly with France Telecom's research and development department.
"These folks will accelerate the tremendous work already done by Doug Turner, Chris Hofmann and the entire Mozilla community," wrote Schroepfer. The newcomers will help boost Mozilla's mobile work on testing, user interface design and core engineering, he said.
But, as has been the case with Firefox, Schroepfer anticipates a bevy of volunteer open source advocates will help make the new mobile browser successful, bringing "a large and passionate community to the closed and fragmented mobile platform."
Power to the Portables
Nokia N800 owners can already get a Mozilla-based browser, and Firefox is a key part of Ubuntu Mobile and the new Intel Internet Project. Mobile processor specialist ARM "has put serious effort towards Firefox on mobile devices," he said.
A key to having a nearly full-fledged version of Firefox for mobile use is processing power and memory. Top-of-the-line devices are now just approaching the requirements, but Schroepfer predicted that "rapid improvements in mobile processors will close this gap within a few years."
Because of that progress, and because users want more from their mobile devices, now is a good time for Mozilla to tackle the mobile browser issue, he said.
"There is far from a dominant player in this marketplace and even the best mobile browsers today have compromises in user experience, performance and compatibility," wrote Schroepfer. "There is still plenty of room for innovation."
It Better Be Better
For any new mobile Firefox browser to succeed, it will have to be significantly better than the current mobile browsers, such as the Safari browser used in the Apple iPhone and the version of Internet Explorer that comes with Microsoft Windows Mobile 6, said Sterling Market Intelligence Principal Greg Sterling.
"There's no motivation (to download and install a new browser) if what they are offering is just as good as what somebody else is already doing," Sterling told LinuxInsider. "The thing that struck me is the fact that they are going to do it and they said they are going to rock the mobile Internet. They have some notion of improved user experience and integration of browsers."
As is the case with Firefox for PCs, it is likely to be the more tech-savvy mobile users who will want to, and be able to, download and install the new Firefox mobile browser, said Sterling.
"It's not quite as easy and intuitive on a mobile device as it is online," he noted.