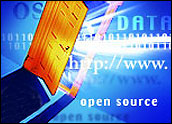 Solid Information Technology on Monday announced an open source strategy to create a solidDB Storage Engine for MySQL.
The high-end database company is adapting its proven online transaction processing (OLTP) storage engine to work with MySQL Server. Businesses can adopt open source relational databases for mission-critical applications using Solid's technology, the company said.
The adoption of open source database technology is on the rise, and Solid feels confident about its chances in the market by enabling MySQL users to extend deployments to demanding OLTP applications, according to Alain Couder, president and chief executive officer at Solid Information Technology.
"This open-source addition to our existing product line also allows us to bring our core technology to a broader market, while continuing our commitment to our existing customers in our traditional markets," Couder said.
Open Storage
Key features of solidDB Storage Engine include a multi-version concurrency control, transactional integrity with ACID support, online backup capabilities, fast performance for mixed workloads, security with database roles, and dynamically configurable parameters.
A prototype of solidDB Storage Engine for MySQL will be available for download and community testing on April 24. The source code will be covered by GNU Public License and will be available as a beta release in July. The product will be generally available in the fourth quarter of 2006.
"An open source storage engine will spur the adoption of open source relational databases for mission critical applications," said Stacey Quandt, research director at Aberdeen Group. "The availability of the solidDB open source storage engine will enable a smooth transition for customers seeking an alternative to Oracle's InnoDB."
Covering Bases
Quandt brings up an interesting point. MySQL can be used with a variety of storage subsystems. One of them is InnoDB, which is commonly used by customers that need transaction processing.
When Oracle acquired InnoDB last year it created some market uncertainty about what would happen to MySQL customers that needed transaction support, according to Burton Group analyst Peter O'Kelly. MySQL and Oracle renewed their agreement, alleviating those concerns, but leaving the door open for MySQL to diversify.
"For a lot of different reasons it is desirable to have more than one transacted subsystem for MySQL customers. I think Solid is a good addition to the list," Kelly told LinuxInsider. "Now MySQL is not solely dependent on Oracle."
Acquisitions at the Fore?
Indeed, Solid is a solid partner, with more than 3 million copies of its software deployed in products from market leaders such as Alcatel, Cisco, EMC2, HP, NEC, Nokia, Nortel, and Siemens. In addition to solidDB for MySQL, Solid delivers a data management platform that combines fully-transactional in-memory and disk-based database engines with carrier-grade high availability.
Open source database companies are ripe for acquisition, analysts said. MySQL is by far the most well recognized open source database player, but there are many smaller players who could also be candidates. Red Hat, for one, may be shopping in the wake of the JBoss acquisition.
"If Red Hat wants to compete across the full spectrum with Microsoft, it needs a database management system," O'Kelly said. "If Red Hat found it useful to acquire one or more of the open source DBMS companies then that would significantly shift the market for database management systems."