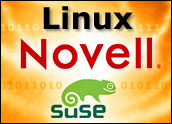 Taking aim at the next generation of computing — virtualization and the cloud — Novell on Tuesday unveiled Suse Linux Enterprise 11.
Suse Linux Enterprise 11 has been optimized for the major hypervisors — VMware ESX, Microsoft Hyper-V and Xen. It runs on the x86, Itanium, IBM Power and IBM System z platforms, all of which are used in IT infrastructure virtualization.
Also, it will be certified and supported in Amazon Elastic Compute Cloud (EC2).
In addition, the operating system offers tighter ties with Microsoft technologies.
What Makes Up Suse Linux Enterprise 11
For virtualization, Novell not only supports hypervisors, but it is also working with IBM to offer virtual instances of IBM's DB2, Informix Dynamic Server, WebSphere sMash, Lotus Web Content Management and WebSphere Portal, all running on Suse Linux Enterprise 11.
"These are all offered for the cloud, which is where organizations are moving," Michael Applebaum, senior product manager for Suse Linux Enterprise, told LinuxInsider.
Novell also announced Suse Linux Enterprise JeOS (Just enough Operating System) and a suite of tools which will let independent software vendors (ISVs) build virtual appliances with only the parts of the operating system they need. JeOS will be available in April.
Suse Linux Enterprise 11 also offers policy-driven automation through Novell ZENworks Linux Management 7.3, available now. Other features are the ability to migrate workloads from Unix to Linux; a High Availability Extension, to be available later this year; and support for swaps over the Network File System.
One new extension to the operating system — Suse Linux Enterprise Mono Extension — lets users run fully supported Microsoft .Net-based applications on Linux without having to recompile them. It also lets users run .Net-based applications on IBM System z mainframes. The extension is available now.
Weighing Up the Issues
By gunning for x86 platforms and the mainframe, while leaving out mid-range servers, Novell is clearly targeting virtualized IT infrastructures and the cloud. Google and Facebook, which run massive clouds, use cheap x86 platforms, which they replace as needed.
Meanwhile, IBM's z series mainframe has seen sales go up over the past year because it enables massive consolidation of multiple Linux platforms onto one box, and it's playing a big role in virtualized IT infrastructures. It's the mid-range servers that few use because they're so big and expensive.
Novell's emphasis on virtualization and the cloud could suit it well for the next-generation data center, where virtualization and external and internal clouds will be prominent. "Novell lets enterprises build internal clouds and provides the operating system platform for data centers extending into the public cloud," Applebaum said.
Novell will also provide tools from PlateSpin, which it bought for US$205 million last year, to manage the clouds, Applebaum said. It will offer business service management capabilities from Managed Objects so business knows what services IT is providing.
Will This All Work?
Whether or not Novell will succeed in tapping the wave of new technologies remains to be seen.
"Does Novell have expertise in virtualization? That's anybody's guess," Bill Weinberg, a principal analyst for LinuxPundit.com, told LinuxInsider.
"Incrementally, virtualizing different pieces of the data center and, in Novell's case, the corporate desktop and other pieces makes a lot of sense as you move towards the cloud. But is Novell in the right part of the ecosystem to benefit from it?"
For Novell, it might be a case of too little, too late, Weinberg said.
"It looks like Novell's doing what they've done in the past — making the right statements six to 12 months too late. Being a late entrant doesn't work unless you're IBM and have really deep pockets and have the ability to maneuver."