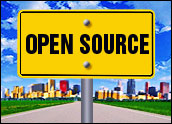 The monitoring and management of open-source software is becoming a significant market opportunity as users seek ways to mitigate risk and developers pursue revenue streams for their "free" software offerings, experts said.
A 2004 Forrester Research survey of 140 large North American companies revealed that 46 percent are currently using open-source software and another 14 percent plan to do so soon. Open-source monitoring solutions are attractive to customers primarily for their relative low cost compared with many proprietary offerings.
Impacting Growth
Industry insiders like Javier Soltero, chief executive officer of Hyperic, believe that open-source companies, in light of their free software positioning, will continue to be looking for ways in which to achieve profitability. Providing monitoring software and services is one of the routes available to them, he said.
Monetization opportunities "will impact the industry over the next phase of growth," he said.
The trend accelerated last month when GroundWork Open Source Solutions, a provider of open-source IT management solutions, disclosed the release of its GroundWork Monitor Architect ("Monarch"), a free, open-source configuration tool that accelerates and simplifies the deployment of Nagios, a popular open-source monitoring tool, and GroundWork Monitor, GroundWork's IT management solution based on Nagios.
The company plans to launch more open-source software projects in the coming months.
Laying the Groundwork
"The release of Monarch puts us one step closer to our vision of pervasive open-source IT management tools," said Robert Fanini, chief executive officer of GroundWork Open Source Solutions. "We are demonstrating a commitment to supporting the growing user communities surrounding Nagios and other open-source IT management tools."
Monarch is a Web-based configuration tool that enables system administrators to more easily and rapidly set up and maintain Nagios and GroundWork Monitor by allowing them to configure the system through a Web-based interface rather than having to edit actual configuration files — a time-consuming and tedious process.
"System administrators are increasingly accustomed to GUI-based software configuration tools, but Nagios still requires users to edit by hand. With Monarch's graphical, Web-based user interface, we've bridged one of the largest functional gaps of Nagios," said Fanini.
Nagios is a popular open-source monitoring tool that has been downloaded more than 660,000 times since 2001, according to the company. The system has unlimited configuration options, making installation and configuration complicated for administrators. A key feature of GroundWork's Monarch is its system for profiling the unique configuration requirements of commonly deployed servers and networking equipment.
Until now, system administrators were forced to look up each of these requirements individually and configure them one-by-one. One simple configuration error meant the solution was inoperable. "With Monarch's automated profiling system, system administrators can set up one profile and assign it to 2,500 devices with one command, saving considerable time and avoiding human error," said Fanini.