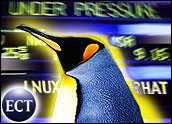 Retailer Ritz Camera Centers is deploying Linux at stores across the country, joining a burgeoning list of retailers that have opted to run their in-store point-of-sale (POS) applications on the open-source operating system.
Novell announced that the retail chain selected its Linux Desktop at the LinuxWorld Conference & Expo earlier this month.
Ritz Camera — with 1,200 retail stores across the United States — is not the first retailer to opt for Linux. The Open Source Development Labs (OSDL), a global consortium dedicated to accelerating the adoption of Linux, recently announced highlights on the advance of Linux worldwide in the more than US$6 trillion annual retail industry as reported by the group's members.
'Significant' Adoption
"We are seeing significant Linux adoption in the retail sector as companies look for flexibility, reliability and low cost as their legacy IT systems near end-of-life," said Stuart Cohen, chief executive officer of OSDL, based in Beaverton, Ore. "The increasing availability of Linux-based solutions from both major vendors and ISVs [Independent Software Vendors] is accelerating the trend. In retail, it's all about lowering costs, streamlining supply chains and improving margins."
Overall retail market spending on IT for 2005 is estimated to exceed $21 billion, according to a July 2005 report by market research firm IDC.
IHL Consulting Group, an analytical firm that covers IT, indicates that Linux deployments in retail increased dramatically in 2004 over 2003. The 34 percent growth is being driven by new market entrants and increased enthusiasm over Linux. In the past two years, the average cost of a point-of-sale system fell from more than $4,000 in 2002 to less than $1,000 in 2004, according to IHL.
According to OSDL members who are working with customers in the retail sector, the industry is facing pressure because of the following factors:
Increasing integration of companies with suppliers and partners;
Multiple stores in distributed locations without local IT staff;
Competition from very large global companies — with huge economies of scale — and smaller companies, which are nimble.
According to OSDL, "tens of thousands of retail companies" are investing in Linux-based solutions worldwide. Six major retail firms working closely with OSDL members BakBone, HP, IBM, Novell and Red Hat reported significant recent advances in Linux deployments, including the following:
Anaconda Sports, the largest U.S. retailer of amateur league sports equipment;
Burlington Coat Factory, with 340 stores in 42 states;
Mercadona, Spain's largest supermarket chain with more than 900 stores.
Reducing Costs
"Our Linux on the mainframe solution has enabled Boscov's to drastically reduce software and systems administration costs, saving nearly $1 million over a three-year period," said Harry Roberts, chief information officer of Boscov's, one of the retailers surveyed by OSDL.
"As we complete our transformation into an on-demand business, we look forward to improving our service and introducing many innovative solutions that make shopping in our stores a unique experience," Roberts said.
For some customers, price and low total cost of ownership are the key criteria.
"In the highly competitive retail industry, technology implementation choices are driven by the need for reliable and robust solutions at the best possible price," said Dennis Moore, director of enterprise architecture for Retail Ventures, which was also surveyed by OSDL.