Opera Software on Wednesday released its Opera Mini 5.1 browser for the Android mobile platform, concluding a beta period that began in March.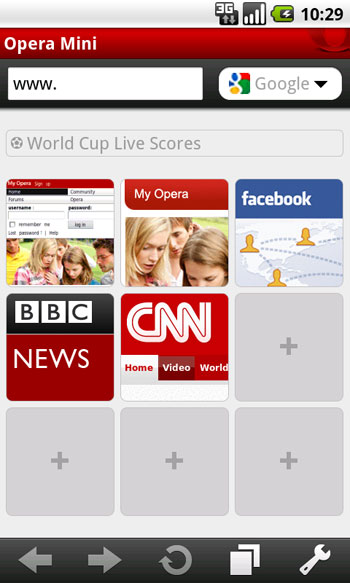 CAPTION TEXT GOES HERE
Opera Mini 5.1 offers improved page layout on high-end Android handsets with large screens, its Norwegian maker says. Among the software's features are tabbed browsing, a password manager, bookmarks and speed dial, all built in to deliver easy Web access while on the go.
Opera Mini can also now be set as the default browser on Android phones.
The new release can be downloaded for free from the Android Market or from m.opera.com.
Faster Page Loads
With more than 61 million users worldwide, Opera Mini is the world's most popular browser for mobile phones, and it delivers the best Internet experience on more than 3,000 mobile phone models, Opera Software says.
One of its primary advantages over other mobile browsers is that Opera Mini compresses data by up to 90 percent before sending content to the phone, resulting in significantly improved page-loading speeds and reduced data costs for the user.
For example, Opera Mini can display a BBC News page nine times for the same cost it would take most browsers to display it once, its maker claims.
The software was recently released for the iPhone, generating a million downloads during the first 24 hours of availability.
'An Excellent Reputation'
On the PC, Opera has "struggled to become a recognizable name ahead of competitors like Firefox, Internet Explorer and Chrome," Alex Spektor, a wireless analyst with Strategy Analytics, told LinuxInsider. However, "they do have an excellent reputation on the mobile side."
Opera accounted for 2.27 percent of the browser market in June, according to recent data from market researcher Net Applications. Ahead of it were Internet Explorer, with 60.32 percent; Firefox, with 23.81 percent; Chrome, with 7.24 percent; and Safari, with 4.85 percent.
With its server-side compression technology, Opera Mini "can actually help speed up browsing," Spektor noted.
'A Nice Thing for Operators'
That was relevant in the days of 2G, but it's equally relevant today given the congestion problems created by Web traffic on operator networks, Spektor pointed out.
In the past, operator networks have had a preference for RIM's BlackBerry devices, since they are optimized to deliver the Web in a smaller, more compressed format, he explained.
"Now that Web traffic is continually picking up, Opera Mini on smartphones is a nice thing for operators," opined Spektor. "It can help to improve their margins."
'The Choice Platform'
The fact that Opera Software chose Linux-based Android, meanwhile, "shows that Android is continuing to be the choice platform for content providers and application developers," Spektor added.
"Software and content vendors are looking beyond the iPhone for other big, rising smartphone platforms that will allow them to have as many users as possible," he observed.
"The growth Android has shown in the U.S. and worldwide works to their advantage and helps companies like Opera get their product in front of as many users as possible," Spektor concluded.
'I See This Partnership Growing'
"Opera is one of the winning mobile browsers in today's marketplace," telecom and wireless analyst Jeff Kagan told LinuxInsider. "Android is also one of the newest and rapidly growing platforms."
As a result, "it makes sense for Opera and Android to be together to create a better experience for customers in a very competitive space," he opined.
If it works successfully, "I see this partnership growing to offer more complex and satisfying wireless Web experiences to customers," Kagan predicted. "They will continue to improve, because this marketplace is young and growing very quickly.
"The 'big bang' happened a few years ago," he pointed out, "but ever since, every handset maker and software company in the space is rushing in to reach the enormous universe of customers."