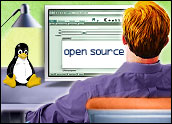 Enterprise and consumer computer buyers will have to speak louder if they want to influence manufacturers to offer Linux and open source applications preinstalled on new computers.
Without stronger guarantees of consumer and enterprise interest, computer makers have no financial incentive to offer non-Microsoft software options.
Dell recently touched off a firestorm of customer reaction after debuting its new customer feedback Web site called IdeaStorm. Users can submit and vote on ideas for new products and enhancements to older products. A heavy response from Dell customers showed growing support for Linux and open source applications preinstalled on new desktops and laptops.
More than 45,000 users over a three-day period agreed with a suggestion that Dell should "preinstall Linux" to cut the price of new PCs. A related suggestion that Dell offer new-computer buyers an option to have the open source suite OpenOffice preinstalled on new systems garnered some 25,000 votes in two days.
"The goal for a software developer is to get on the [computer] box first. There is not necessarily a draconian intent to be realistic about only offering Windows," Dave Roberts, vice president of strategy for open source networking firm Vyatta, told LinuxInsider. "Open source started out as anti-business attitude. That concept is changing at the commercial level."
No Linux Incentive
The terms of the contracts between Microsoft and computer manufacturers make it profitable to ignore Linux, according to Dr. James Bottomley, CTO for SteelEye Technology, a software security developer for networks.
"There is no financial incentive for large computer makers to preinstall Linux. Ultimately, it is up to the manufacturers to decide what they do with software," Bottomley told LinuxInsider.
Dell currently supports Linux on its servers. In addition, Dell offers buyers Red Hat Enterprise Linux 4 preinstalled on a set of three desktop computers.
Some manufacturers, usually the smaller ones, will swap out Windows for Linux and give a rebate of US$50, Bottomley added, noting that he recently made such a purchase.
Part of the strategy for large computer makers in offering some Linux options is to leverage Microsoft to negotiate the price of Windows, Bottomley said.
No Restrictions
Despite widespread conceptions that Microsoft bullies computer manufacturers into offering only the Windows OS, Bernard Golden, CEO of open source strategy consulting firm Navica, insists that is not the case in today's world.
"There are no contractual arrangements with Microsoft that preclude hardware manufacturers from selling machines loaded with non-Windows operating systems," Golden told LinuxInsider.
At least that's the case currently. Many past OEM (original equipment manufacturer) contracts with Microsoft had forced hardware makers to pay Microsoft a licensing fee for Windows regardless of whether the machine shipped with Windows, another operating system, or no OS at all, Golden explained. However, antitrust action brought by the U.S. Department of Justice killed that type of contract.
Must Pay, Period
Most computer makers avoid seeking buyers who want Linux preinstalled, Golden said, because of Microsoft's pricing structure for Windows. There is nothing that precludes Microsoft from aggressively pricing its products to avoid volume sales.
"Manufacturers end up paying just as much in total for a smaller number of copies of Windows than it would if it shipped every machine with Windows," Golden exclaimed.
This has the effect of dissuading OEMs from pursuing non-Windows bundling deals. Similarly, having to pay for Windows installations one way or the other serves to dissuade computer manufacturers from spending the resources to investigate Linux.
Changes Coming?
There is a strong prospect for a change in attitude among PC makers, believes Vyatta's Roberts. He sees preinstallation of Linux a distinct possibility for two reasons.
First, computer manufacturers once found it difficult to deal with all of the Linux variables. That, however, is less of a consideration now.
"We've talked to some computer makers about having a corporate set of open source products pre-configured. The world is going in that direction," said Roberts.
Second, he sees the practice of forcing computer manufacturers into paying for Windows becoming less blatant. There is a rising cost incentive for vendors to preinstall Windows products, not just the operating system.
Interest Factor
Despite what could be a softer incentive atmosphere developing, computer makers still have to face the prospect of low consumer demand. Golden presents the standoff as a classic chicken-and-egg dilemma. Manufacturers are not sure if the demand for Linux is there because most PC makers lacked interest in finding out.
"Because of the lack of interest in discerning the level of consumer interest in Linux preinstalls, there hasn't been much evidence of people buying PCs with preinstalled Linux," he explained.
This has created a situation in which a lack of machine availability causes low orders, thus indicating a lack of consumer demand.
"What's great about the request page that Dell has put up is that it offers a concrete way for end users to directly indicate their interest, thereby bypassing the chicken-and-egg situation," Golden said.
Golden sees Dell's initiative as a starting point for a new look at preinstalling Linux. He hopes that Dell and other computer manufacturers will recognize the 75,000 user requests for preinstalling Linux and open source applications so far as a sizable market. That could motivate Dell and other companies to pursue a real experiment with Linux preloads.
"If I had to predict, I would say that Dell will start to sell machines will Linux preloads. After all, if they don't, they'll look like they are ignoring the feedback they requested in the first place," Golden concluded.
Cry Freedom
Such a response from Dell could push for further adoption, agreed Roberts. SteelEye's Bottomley said he has heard rumors that Dell is already discussing offering Linux and open source application preinstallations.
Dell representatives declined to respond to inquiries about offering consumers a Linux option or about consumer responses on IdeaStorm postings.
"People will want a freedom of choice," said Roberts.