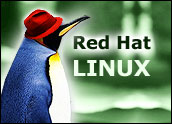 Red Hat and Hortonworks on Monday announced a strategic alliance to integrate their product lines, as well as undertake joint go-to-market initiatives and offer collaborative customer support.
By tightly integrating the enterprise Apache Hadoop platform with open hybrid cloud technologies such as the Red Hat Enterprise Linux OpenStack Platform, OpenJDK, Red Hat JBoss Middleware and Red Hat Storage, the two companies aim to enable data-driven applications that help enterprises more quickly draw value from Big Data.
"Data — specifically data running processed with Hadoop — is the killer application for the open hybrid cloud," explained Ranga Rangachari, Red Hat's vice president and general manager for storage and Big Data.
"Enterprises are looking to IT solution providers to help with a dramatic reduction in time-to-results for their Big Data projects," he added. "Red Hat's strategic alliance with Hortonworks is focused on helping customers with efficiency and agility as they embark on Big Data projects."
Meanwhile, Red Hat on Tuesday introduced JBoss Data Virtualization 6, complete with Hadoop integration.
A New Beta Program
Three initiatives already have been launched as part of the new strategic alliance between Hortonworks and Red Hat.
First, the companies on Monday announced the availability of the beta program for the Hortonworks Data Platform plug-in for Red Hat Storage.
Created to allow data architects to combine data in a single, scalable open source repository, the new software is designed to provide a secure and resilient general-purpose storage pool with multiple interfaces, including Hadoop, POSIX and OpenStack Object Storage. Potential results include improved flexibility, as well as faster development and deployment of new and existing analytic workflows, the companies said.
Elastic Scalability
Second, aiming to allow enterprise operators and application developers to elastically scale their Hadoop infrastructure to meet changing demand, the two companies announced HDP combined with Red Hat Enterprise Linux, and OpenJDK and HDP combined with Red Hat Enterprise Linux OpenStack Platform.
The former is designed to provide faster development of enterprise-strength analytic applications, while the latter delivers elastic Hadoop services on a secure, private cloud infrastructure for lower costs and improved flexibility.
The third initiative aims to give developers a way to quickly build new analytic applications to take advantage of new data types, while offering analysts improved access to data through standard interfaces.
Specifically, HDP combined with Red Hat JBoss Data Virtualization integrates Hadoop with existing information sources, including data warehouses, SQL and NoSQL databases, enterprise and cloud applications, and flat and XML files.
Among the results are business-friendly, reusable and virtual data models, the companies said, with unified views created by combining and transforming data from multiple sources, including Hadoop.
'A Natural Position'
"While the extended alliance includes plans for new, further product integrations that should benefit both the companies and their customers, it mainly seems to focus on promoting the value of Hadoop as an open source project and implementation," Charles King, principal analyst with Pund-IT, told LinuxInsider.
"That's a natural position for both companies to take: Red Hat is the leading vendor of Linux and related open source solutions, particularly for enterprise customers, while Hortonworks has long been the largest contributor to the Apache Hadoop open source project," he pointed out.
Over the past 12 to 18 months, "companies such as Cloudera have suggested that layering proprietary software and services on top of Hadoop's open source core architecture represents a more sustainable business model," King added.
However, "Hortonworks and Red Hat obviously have different ideas for where Hadoop should be heading, and this new alliance seems aimed at strengthening the open source-based roots, bonds and mutual strategic vision the pair shares," he said.
'A Relatively Early Move'
"It is fascinating to watch the space of data virtualization heat up quickly, having witnessed an earlier incarnation a couple of decades ago," Al Hilwa, program director for software development research with IDC, told LinuxInsider.
"Networks and systems are much faster today — and workloads are inherently more distributed, thanks to the mobile and cloud revolutions, so it makes sense to start seeing this happen now," Hilwa added.
"Big Data is definitely a driver, so we are seeing interesting partnerships with the heavy-hitters in Big Data here," he noted. "Red Hat is making a relatively early move to bring its open source prowess and deep value to the space."