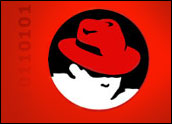 Red Hat on Tuesday unveiled Red Hat JBoss BPM Suite 6, an open source business process management suite that combines business process management, business rules management and complex event processing technologies in a single product offering.
JBoss BPM Suite 6 includes all the capabilities of the next version of Red Hat's business rules platform, JBoss BRMS 6, along with support for modeling, automation, simulation, and monitoring of business processes.
JBoss BRMS is used to host an organization's business rules and to make business decisions based on those rules. It can be used as an alternative to coding those rules directly into applications, potentially saving time and money and helping companies quickly incorporate changes into their application infrastructure.
A Choice of Deployment Options
The new software "combines BPM, business rules and complex event processing in a single package," Phil Simpson, principal product marketing manager with Red Hat, told LinuxInsider. "Businesses typically need all three technologies to fully automate their operations, and having them tightly integrated together in a single product is a unique advantage."
JBoss BPM Suite 6 is also lightweight and offers a choice of deployment options: either embedded within an application or as a standalone BPM service accessed via APIs — REST, JMS or Java, Simpson added.
"Most BPM solutions offer a standalone deployment model only and are too complex to embed within an application," he explained.
'There Is No Vendor Lock-In'
JBoss BPM Suite now can be deployed in Platform as a Service (PaaS) environments such as OpenShift.
"Over the course of this year, we are working to make it very easy to provision a PaaS environment with JBoss BPM Suite and ultimately to consume BPM as a service," Simpson added.
The open source nature of the software means that "there is no vendor lock-in," he pointed out. "Our subscription-based business model results in significantly lower total cost of ownership."
Not only that, but the open source software also enables users to collaborate more closely with development teams to deliver new functionality, Simpson added.
Advanced Business User Tools
JBoss BPM Suite helps organizations grow their business by providing visibility, business agility and consistency, Red Hat said.
Highlights of the software include advanced business user tools such as a drag-and-drop BPMN2 process modeler, a graphical data modeler and business activity monitoring dashboards and reports; integration of the runtime rule engine and CEP features from JBoss BRMS with a business process execution server capable of supporting a variety of workload needs; and flexible deployment options.
Red Hat's new release is in part the result of its acquisition back in 2012 of Polymita, Carl Lehmann, research manager for enterprise architecture, cloud integration and business process management with 451 Research, told LinuxInsider.
'Some Competitive Differentiation'
The addition of that technology not only brings Red Hat's BPM offering on par with other BPM suites, but also "adds some things to make it interesting," Lehmann said, including a planner and scheduling engine that "help with constraint-based decisions and scheduling."
Also new is open sourced business process simulation, he added.
The combination of those things "gives Red Hat some competitive differentiation in the market," Lehmann pointed out. "I think they did a pretty good job there."
In short, "many organizations approach business process automation as a singular event," he concluded. "Industry leaders pursue it as the beginning of a continuous improvement program. Such efforts require process modeling that includes rules management and decision support, simulation to test assumptions, and performance feedback upon execution to prove results."
That in turn "requires integrated frameworks such as Red Hat's JBoss BPM Suite," he said, "to enable consistent and reliable outcomes."