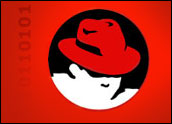 Red Hat continues to enhance its line of middleware products with its agreement to acquire information management software firm MetaMatrix.
Once the transaction is complete in approximately 60 days, MetaMatrix will be folded into Red Hat's JBoss division, said Tim Yeaton, senior vice president of enterprise solutions at Red Hat.
Waltham, Mass.-based MetaMatrix provides data-management software for SOA (service-oriented architecture) applications.
Terms of the deal were not disclosed.
Expanding Middleware
The planned integration of the MetaMatrix products into Red Hat's JBoss Enterprise Platform aims to let users switch easily from expensive proprietary applications with isolated databases to a SOA-based system in which all data and all applications are on hand.
This SOA approach should help modernize legacy IT infrastructures, providing interoperability across applications and software components, Shaun Connolly, vice president of product management at Red Hat, told LinuxInsider.
"Integrating it all into a single contribution platform gets all the complexity out of the way and creates single platform that is easy to consume," Connolly added.
Within the next year, MetaMatrix's products will be moved to a subscription licensing model and be released as open source offerings, according to Red Hat.
SOA Strategy
Red Hat is providing customers with a migration path in order to control their organization's IT infrastructure, said Yeaton.
The firm's SOA strategy will help customers overcome four major challenges, he noted — development complexity, low IT resource utilization, business process friction, and inadequate user experiences.
The company believes it will deliver even greater cost savings to enterprises while moving siloed legacy applications to JBoss Enterprise Middleware, Yeaton added.
Expanding Middleware
Last year, Red Hat jumped into the middleware arena when it purchased Java-based application server software platform outfit JBoss for US$420 million.
With the MetaMatrix acquisition, Red Hat can add a data services layer that decouples applications from their data sources, freeing data from single application silos, according to Connolly.
The data management market is estimated to reach $1.3 billion in 2007, according to Forrester Research.