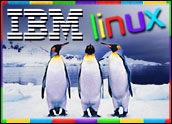 IBM released open beta software Monday that enables x86 Linux applications to run on IBM's System p servers.
The IBM System p Application Virtual Environment (System p AVE) is designed to allow some 2,800 Linux applications to run on the System p Unix platform without code modifications.
"System p customers have told me that technology that may have been 'good enough' for deploying one x86 server at a time is not 'good enough' when consolidating over 300 x86 servers spanning eight racks onto one rack of more powerful System p servers," said Scott Handy, vice president, worldwide marketing and strategy, System p.
"These customers are choosing to trust System p products, and our Advanced Power Virtualization for those more mission critical points of consolidation, and p AVE will expand the possibilities of what x86 workloads they can consolidate onto System p platforms to derive greater savings," he continued.
Expanded Possibilities
Unlike the majority of x86 servers, the System p series is based on a Power PC chip, Gary Chen, a senior analyst at Yankee Group, told LinuxInsider.
IBM's beta software, based on QuickTransit software from Transitive, an application transportability startup, is able to interpret software written in one language for one chip into the language of a different chip and then store oft-used instructions for speedier execution.
"The problem was that if you had a program for Linux, most of the time it wouldn't run on IBM's p series because it was made to run on an IBM chip," Chen explained. "With this new software, it will allow the p series to run Linux programs made for the p series and the vast majority of Linux programs compiled for Intel x86.
"It opens up this kind of system to more choices of software. It would be similar to if you were a Mac and had a small percentage of the market and all of a sudden could run every Windows program that was out there," Chen continued.
Big Blue Deal
The development and beta release of this technology are very significant, Brad Day, a Forrester Research analyst, told LinuxInsider. IBM's System p servers run AIX, Big Blue's version of Unix, and i5/OS as well as Red Hat and Novell Linux software. Using virtualization technology, an IT department could run each of these operating systems (OSes) in separate partitions at the same time.
IBM's new software is able to circumvent the Linux software's binary break, which prevents binary files designed for one processor from working on a different processor
"While IBM's ChipHopper provides the tools, translation technology, and sizable business proposition for software vendors to make a native port of their Linux/x86 applications to IBM Power — namely the half million System I, System p and Blades installed base, all Power-based — to sell their software on, System p AVE allows for moving those same Linux x86 binaries, without any programming or compiler organization," Day explained.
"This would be a good first step to at least provide the ability to consolidate Linux/X6 binaries and workloads onto one very scalable Power-based franchise," he continued. "If they want to move to the native port, and join the other 2,800 applications that have been natively ported to take full advantage of the steroids performance of Power-based machines, they can do that as well."
AIX, Linux or Hybrid
The software, of which IBM expects to release a final version during the second half of 2007, will give System p customers something they have long wanted, according to Day — the ability to run one of three operating system environments.
The application gives IT departments a larger and wider choice for operating-system optimization; datacenters will have the potential to consolidate all Linux-led applications stacks on a single very scalable, multicore system architecture.
"Many System p customers want the ability to run one of three operating system environments: straight-up AIX applications, straight-up Linux applications, or a hybrid operating environment through AIX APV (Advanced Power Virtualization). Customers want the flexibility to run both Linux and AIX applications," Day added.
Customers and vendors can now download the beta. IBM said it offers free support for a year to software companies and customers planning to deploy AVE to bring their Linux software to IBM Power servers.