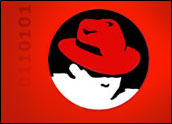 Leading open source vendor Red Hat said it will buy certain security-related assets of Netscape Security Solutions from America Online in a deal worth US$25 million.
Red Hat said it will integrate the products it is buying, including the Netscape Directory Server and Netscape Certificate Management System, into its own enterprise offerings within the next six to 12 months.
Raleigh, North Carolina-based Red Hat said the products would increase the security of its server products and make them easier for enterprises to manage.
Paul Cormier, executive vice president of engineering at Red Hat said the new tools "will enable the integration of the desktop with a networkwide set of computing services that up until now had only been available from a small set of proprietary vendors."
Strategic Value
In a statement, Red Hat CEO Matthew Szulik said the assets have "tremendous longterm strategic value for the open source industry" and his company. "The technologies will provide a secure switchboard with certificates for all traffic in the open source architecture," he added.
The Directory Server is aimed at easing management of a network by centralizing application settings, user profiles, group data, policies and access control information into a single registry, where access, and security, can be tightly controlled. The certificate management system is a high-level approach to authenticate user identity and controlling access to information.
The acquisition was announced a day after Red Hat unveiled the latest version of its Open Source Architecture, a framework for building additional tools onto — and generating additional revenue from — its Enterprise Linux platform. Application development and tools to manage computing power are also part of the long-range vision.
Analysts said the beefed up offering will crank up the competition among Red Hat and other companies that offer a full range of enterprise tools, such as Sun Microsystems.
Competitive Advantage
Gartner analyst George Weiss said the acquisition and the overall push to expand its architecture are also designed to help Red Hat compete against Novell, which purchased SuSE Linux and is now a formidable challenger.
"An enterprise is going to buy Linux from a vendor that can supply everything they need," Weiss said. "Red Hat has laid out a map for going in that direction, which is a good first step."
Doing so should ensure Red Hat a chance to enjoy the projected double-digit growth of enterprise Linux use in coming years, he added.
The move represents the latest divestiture of Netscape, once a prized possession for AOL, which it bought late in 1998 in a deal said to be worth more than $4 billion at the time. However, the backing of AOL was not enough to keep Netscape from being trampled by Microsoft in the browser wars.
America Online has tried various approaches to leveraging the Netscape brand, first using it as the centerpiece of a small-business marketplace and most recently launching a low-cost Internet access option under the browser's name.
Last summer, in a move critics said showed AOL's waning interest in Netscape, the Mozilla open-source browser development unit was spun off to stand on its own as an open source project.