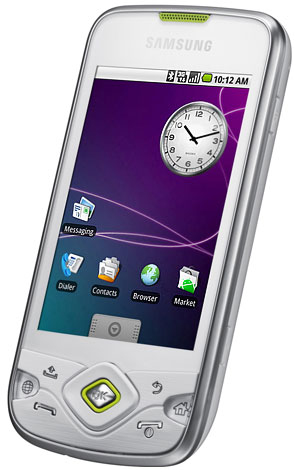 Samsung's Galaxy Spica (I5700)
The Android army gained yet another recruit Monday with the release of Samsung's Galaxy Spica phone in Europe and the Commonwealth of Independent States (CIS), or former Soviet republics.
Equipped with an 800 MHz application processor and DivX support, the new device — also known as the "I5700" — reportedly runs Android 1.5, or "Cupcake."
It will next be rolled out in the Middle East and Africa, Samsung said, but no mention was made of North American availability. Pricing was not announced.
First with DivX
The Samsung Galaxy Spica offers seamless connectivity, smooth access to Google mobile services and easy connection to popular social networking sites such as Facebook and MySpace, the company said.
Equipped with DNSe 2.0 for high sound quality and a 3.5-mm ear jack, the device features a slim, compact design, with a thickness of just 13.2 mm.
The Galaxy Spica is the first Android phone to support DivX, Samsung said, making it easier for users to watch high-quality video without the hassle of file format conversions.
The new device joins the Android-powered Samsung Galaxy GT-I7500, which debuted in Europe this summer; the Samsung Moment; and the Samsung Behold II, which is due to ship this fall in the United States.
Samsung also recently announced Bada, its own open mobile operating system.
No Turn-by-Turn Navigation
Though the Motorola Droid is already available with Android 2.0 — and its source code was just released –Samsung's Galaxy Spica apparently runs version 1.5 instead, putting it at a potential disadvantage from the perspective of users.
It supports some Google services — including Search, Maps, Gmail, YouTube and Google Talk — but Android 2.0's new Google Maps Navigation feature with turn-by-turn voice guidance is not among them.
"It's a bit smaller and less feature-rich by U.S. standards, but it's aimed at some developing markets, like Africa," Allen Nogee, a principal analyst with In-Stat, told LinuxInsider.
Why No 2.0?
It's not entirely clear why the Samsung device doesn't use Android 2.0.
"That's a good question," Nogee said.
There's no exclusivity agreement between Verizon and Google, as far as he knows, but it looks as though no one except Verizon is releasing version 2.0 devices at this point.
Version 2.0 "does require greater memory and resources," continued Nogee, "so it's possible some devices on the lower side might only be able to run 1.5 and not 2.0, but that can't be the explanation for all of the delays. It also might be just that companies building devices were taken off-guard by how [quickly] 2.0 has arrived, so they kept their plans to launch a 1.5 device."
Samsung did not respond by press time to LinuxInsider's request for comments.
'Not a Huge Jump'
The difference between versions 1.5 and 2.0 of Android is "not a huge jump," Chris Hazelton, research director for mobile and wireless with the 451 Group, told LinuxInsider.
Google worked specifically with Motorola to provide an early version of Android 2.0 for use in the Droid's development, which likely took between 12 and 18 months, Hazelton noted.
That's a telling point in the Linux world, he pointed out, since Google's decision to provide such preferential access is "not in the spirit of open source."
Meanwhile, there are rumors that a Korean manufacturer — either Samsung or LG — may now be working with Google in the same manner Motorola did for the creation of an Android 2.0-based device, Hazelton said.
'A Gray Market Upgrade'
In any case, users with handsets that run on older versions of Android do have the option of forcibly upgrading them, Hazelton pointed out — which has already been done with the newly opened Android 2.0 code.
It's "basically a gray market upgrade" that's required, however, and involves reflashing the device, he said.
"You'd really need to be patient and very computer-savvy" to perform the upgrade, Hazelton explained. "There's a good risk you could break your phone."