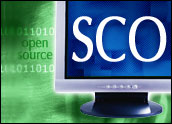 After much ado last fall followed by a false start, the SCO Group has finally launched its legal information site to counter the popular Groklaw.net site.
SCO had originally said last October the site would use the domain name Prosco.net, but is instead located at SCO.com/scoip.
Groklaw postings often contain less-than-flattering portrayals of SCO. The just-launched SCO site claims to be "The Right Place for SCO Intellectual Property Information."
SCO Director of Corporate Communications Blake Stowell told LinuxInsider that SCO's goal with the legal information site is straightforward: to provide people with information about the company's lawsuits as they develop.
Responding to Demand
"People have come to us asking for access to many of these filings and we just wanted to make those available in a very simple way," he said. "There are literally hundreds of filings on the site right now."
Stowell said the delayed launched stemmed from the volume of documents that were involved in its various cases and calling the site a "very time-intensive project."
"Obviously we want to be respectful of the court," he added. "We are very careful to make sure we are not posting anything on the site that wouldn't be in accordance with what the court would have us put up there."
Architecture Outlined
The site chronicles SCO's multibillion-dollar suits against IBM, Novell, AutoZone and Daimler Chrysler for infringing on its proprietary Unix code. It also has information related to Red Hat v. SCO.
SCOIP provides visitors with legal information such as court filings, upcoming hearings and filing dates. Stowell said in the future, SCO plans to add more content, such as possibly a court calendar and links to legal dictionaries and Web sites for courts where the cases are being heard.
Difficult Period
While it appears the lawsuits will drag on for some time, Stowell believes SCO's unrelated issues with the NASDAQ will soon be settled. NASDAQ warned SCO in February that it was in danger of being delisted from its SmallCap Market stock market because it failed to file its 2004 annual report by its deadline.
"We feel like we are on track to resolving all of the NASDAQ issues right now," Stowell said. "We hope to be able to turn in our form 10-K to the SEC very soon. As soon as we do that we believe that will satisfy the Nasdaq's requirement."