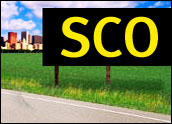 In the aftermath of the SCO Group filing for bankruptcy on Friday, reactions from analyst and community quarters are less gleeful and more sober about lessons learned.
There weren't any champagne corks popping at the headquarters of the Linux Foundation following Friday's announcement.
Wasted Time
"The lawsuit against Linux and our members was misguided from the start. Unfortunately, Novell had to play it out through the courts, wasting time and resources that could certainly be better spent," Amanda McPherson, marketing director for the Linux Foundation, told LinuxInsider.
The foundation, while not a law firm, serves as a mother ship of Linux standards promotion and trademark protection.
Legal Summits
The foundation will hold two legal summits over the next 12 months, according to an announcement. Attorneys from open source companies and the community will focus on legal issues surrounding Linux and open source software.
One takeaway of the SCO filing is that "dubious legal claims are not a business strategy," McPherson said. "Building a business on Linux, instead of attacking it, has led to prosperity. Compare SCO and Red Hat, for instance," she said.
SCO's warnings and filings against companies like Novell, IBM, DaimlerChrysler, and AutoZone have affected efforts, energies and resources on all sides.
Best for Linux
Nonetheless, the SCO battle "was one of the best things to happen to Linux," McPherson said. "It forced the community to pull together and has reassured customers, since Linux weathered this storm so well."
While bankruptcy is never good news for a company, the future of SCO remains to be seen.
SCO Survival
"Let's be clear that the long-term survival of the Unix code base and the survival of SCO are two different topics," Al Gillen, IDC Research vice president for system software, told LinuxInsider.
"SCO has been working at diversifying the company's business for some time, and we expect these investments in new growth areas are what SCO must look toward for the future," he said.
As for future momentum around its Unix business, "SCO's Unix business already was in difficult shape. The Chapter 11 filing will make that business all the less likely to survive long term," he said. "The likelihood of them rebuilding a substantial business around Unix is going to be much more challenging."
Linux Future
The future for the Linux marketplace, meanwhile, depends on more than SCO's bankruptcy filing.
"In and of itself, the bankruptcy does not directly provide any change of the dynamics in the industry, other than to limit the ability of SCO to spend money on litigation," Gillen said. "However, it will bring at least some sense of closure to those individuals who have felt that SCO's litigation was the beginning of a rocky road for Linux."