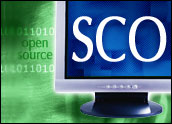 The SCO Group on Wednesday unveiled an array of new Unix products, as well as channel support and training programs.
The announcement comes less than a week after the company reported disappointing financial results that included a quarterly drop from US$21.4 million to $10.1 million.
Among the new products is a major upgrade to the UnixWare product line, an update to SCOoffice Server 4.1, and a first entry into the embedded Unix market with a product called Smallfoot.
In an interview with LinuxInsider, Jeff Hunsaker, senior vice president and general manager in SCO's Unix division, said, "We're very excited about the launch of these products. In light of several other things going on at the company, we think attention has been taken away from our products, so we're happy for the chance to highlight them again."
Product Line Additions
According to SCO, the product releases mark the largest across-the-board group of product enhancements from the company in several years.
An upgrade to the UnixWare line, 7.1.4, includes enhancements in stability and scalability and adds support so that UnixWare can run on thousands of Java and Web services applications.
SCO also is launching a small-business edition of UnixWare, with promotional prices for a five-user license for $599. Hunsaker noted that the company is moving into the small-business space as a result of customer feedback. "With this release, we now have six different editions of UnixWare, from SMB to the data-center edition," he said. "So it spans the scope of all types of customers now."
A new product, Smallfoot, consists of a toolkit used to create an embedded Unix operating system. The company is targeting the development tool toward organizations using point-of-sale, gaming, handheld and other devices.
The company also is releasing Vintela Authentication, a product for managing a single user identity across a heterogeneous Unix and Windows environment.
Rounding out the new product list is the next release of OpenServer, currently codenamed Legend. Due to ship in the first quarter of 2005, the product is the first step for SCO in supporting a single Unix development path for OpenServer and UnixWare.
Hunsaker said that SCO plans to target its strongest markets first, which include government, telecommunications, finance and data-center environments.
New Programs
In addition to the products, SCO also announced several new programs for its Unix reseller organization.
The training and marketing programs will include SCOoffice Server technical training on administration and client access, as well as training at SCO Forum 2004 for SCOoffice Server 4.1.
Other perks for resellers include marketing and cobranding materials, rebate programs and marketing development funds for premier partners.
Attention Deficit
SCO will have more than its share of work in convincing new customers to adopt the products and services that have just been announced, according to analysts and observers.
The ongoing lawsuits with IBM and Novell have focused a great deal of attention away from the company's products, and further developments in the next few months could also diminish efforts to highlight the new offerings.
Jeff Norman, an intellectual property partner in Chicago law firm Kirkland & Ellis, told LinuxInsider that as the case continues in the discovery period, IBM is expected to get tough.
"Part of IBM's strategy is to get SCO to commit to a position," he said. "That way it can attack SCO in subsequent months of discovery."
Strong Focus
Hunsaker acknowledged that turning attention away from what he calls the company's "intellectual property enforcement" and toward the new products will be a challenge.
"Ninety-five percent of our employees are focused on delivering Unix-based solutions," he said. "Only a small handful of individuals here are focused on legal issues."
He noted that the company welcomes the chance to shine more light on product development.
"It's difficult to rise from the noise," Hunsaker said, referring to the attention being paid to the lawsuits. "By launching these products, it shows that we're committed to updating our products and adding new applications."
He added, "We're getting back to where we've been for 25 years, which is delivering solid Unix products, and I think that message will start to resonate."