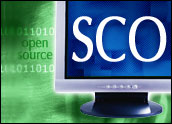 Last year, the SCO Group spent most of its annual conference focused onits intellectual property litigation. This year the company is working to emphasize its products and boost enthusiasm for the future of Unix.
In an interview with LinuxInsider, the company's CEO, Darl McBride, noted that 90 percent of the conference is about products, which is in stark contrast to the 2003 conference. "It was a three-ring circus," he said. "It took all our efforts just to get people to settle down aboutwhat was happening."
SCO's lawsuits, particularly the one against IBM, have made the company a target for professional pundits and bloggers alike. It is not uncommon to see minor legal moves discussed at length on Groklaw, where SCO is frequently skewered for pursuing litigation.
With that kind of attention, it has become difficult for SCO to make thetransition toward highlighting its product, said Jeff Hunsaker, senior vice president of worldwide marketing. He told LinuxInsider, "It's been hard to move the company in the direction of innovation. But months ago, we realized that our entire focus couldn't be what was happening in the courtroom."
Sticks and Stones
Although he is slowly growing used to being hated by most of the Linux community, McBride still feels the sting when bulletin board posts and articles are particularly venomous. He does admit, however, that he waswarned.
"When I came in, the previous CEO told me about what IBM had done," he said. "We were backed into a corner. We could either lay down and let the IBM train run over us, or we could protect our property."
He was told that if he pursued litigation, the user community would "getugly." McBride believes, however, that his company would have gone out of business had it not filed the lawsuit. "That would have been even uglier," he said.
McBride is troubled by charges that SCO is interested only in the potential financial rewards of the lawsuits. "It's not about the money," he said. "It's about fighting for what's right. This is about doing the right thing."
If SCO does win, though, the right thing could pay off handsomely. Sincethe case's start, SCO has increased its request for financialcompensation from US$1 billion to $5 billion.
Getting the Word Out
SCO's move toward focusing less on the litigation began with itsemployees, partners and customers several months ago, McBride said.
When the case first began, McBride and other executives spent a greatdeal of time explaining why the company was undertaking legal action andwhat it hoped to gain. Shifting focus now is a challenge, he noted.
"We're at the point where anyone in the company can tell you the basicpoints of the case," said McBride. "Now, we're getting employees tothink more about revitalizing the company and concentrat[ing] on otherareas."
He hopes that this strategy will lure potentialcustomers. "We're building awareness from the inside out," hesaid.
SCO claims that the effect of these moves is already being seen at thisyear's forum. McBride said that for the first time, he has had manypeople approach him and wish him luck in the lawsuit. He said, "They'revery 'Go, fight, win!' and that's refreshing."
UNIX Renewed?
If it succeeds in shifting attention away from litigation, SCO wants the new focus to land on its role in the future of Unix.
"The reason we're working to get more products out is because we thinkthere's tremendous value in Unix, and that more companies arerecognizing that," McBride said. "Small companies in particular areseeing value, and we're focusing on helping them with that."
The company is eager to make more worldwide efforts as well. "Asia is everybody's diamond mine," Hunsaker said. "It's a huge market. We have partners in China, so we're in a good position."
He did acknowledge that recent moves by China and Japan toward Linux presented an obstacle for SCO's expansion in Asia. "It's tough to fight for market share when you have the government pushing Linux," he said.