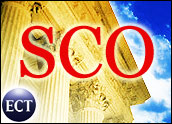 Hoping to position itself to deliver its perspective on the epic legal battle over the future of Linux, the SCO Group said it would launch its own legal-defense Web site.
The site, called Prosco.net, appears to be a direct reaction to the popular Groklaw.net site, which offers extensive analysis of intellectual property issues that often contain less-than-flattering portrayals of SCO.
SCO said it expects the site to be live by November 1 and said it would not be open to third-party postings from the public, but instead it will be a place that offers more extensive information about the company's various legal efforts than it currently has on its corporate site.
The site will be used for updating readers about developments in SCO's suits against IBM, Novell Red Hat and others.
Alternative Point of View
SCO spokesman Blake Stowell told LinuxInsider that the company has heard from "stakeholders" who want a central place to find court filings and related information but would "prefer not to have to visit Groklaw."
"The Prosco.net site will give SCO's stakeholders a place to gain information from our company without having to sift through the negative commentary that our detractors throw at them," he said.
The site will include court filings, news articles, background and history of the Unix code and quotes from the company. Stowell said it will also help augment press coverage of SCO's many legal confrontations.
"Members of the media have a difficult job in covering the issues involved with this litigation," he said. "They have short deadlines and at times, long filings to sift through. They also have a very vocal minority that doesn't hesitate to fill their in-boxes with hate mail if they write anything even remotely positive or balanced toward SCO. We hope that by providing this site, we're able to help make sense of things and give our side of the story."
Hurricane Blowing
Prosco.net is meant in part as an answer to the popular Groklaw site, which was started last year in the wake of SCO's multibillion-dollar suit versus Big Blue — the suit created a firestorm of controversy.
On the Groklaw site, paralegal Pamela Jones offers her take on a range of intellectual property lawsuits, with a heavy emphasis on SCO's battles. In a posting on the site, Jones said SCO's apparent decision not to open the site to public input shows they understand their position is a tenuous one.
"They won't allow any comments, because they'd get drowned out, they say," Jones wrote. "That fear ought to tell them something."
News of the new site came as SCO CEO Darl McBride spoke to a tech industry conference in France yesterday. McBride said that his company is being battered by "Hurricane Linux," a reference to the attacks on the company from the open-source community.
McBride reportedly emphasized that other software companies could face the same prospects of having their intellectual property infringed upon, suggesting that SCO's battle is one that others should get behind.
SCO claims its proprietary Unix source code has been hijacked as part of the Linux kernel that several companies have built their software upon.
Target Practice
If the past is any indication, SCO might want to brace for a different kind of hurricane against its new site. The SCO corporate site was bombarded by denial-of-service attacks until open source community leaders called on the attackers to back off.
Things have quieted down somewhat since, likely because the various legal battles show no signs of ending any time soon. Most analysts say it could be another two years before the first suit is resolved.
"Some of the passion has died down over time, but SCO is still not a very popular entity in the software development world," said Gartner analyst George Weiss. "There's still enough lingering anger out there that it could turn out to be an invitation for trouble."
Weiss noted that changes in SCO's business — McBride told the conference that the company's market share fell from 40 percent to 10 percent — are probably attributable at least in part to the legal uncertainty the company created with its barrage of lawsuits and its follow-up threats to end users of some forms of Linux.