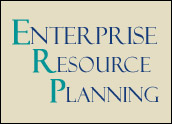 xTuple, a startup maker of open source enterprise resource planning (ERP) software, announced Wednesday that it has certified its OpenMFG and PostBooks software products for use on Apple's new Mac OS X Leopard operating system.
The products are advanced ERP software solutions built with open source components, such as the PostgreSQL database, the Qt toolkit for C++ and the OpenRPT report writer.
OpenMFG is available under a hybrid license whereby customers have full access to the source code, and any enhancements made to the product flow back to xTuple for review, quality testing and possible incorporation into the baseline product. PostBooks, on the other hand, is a simpler version available under the OSI (Open Source Initiative)-approved Common Public Attribution License (CPAL) free of charge.
Both products run equally well on Mac, Windows and Linux computers, xTuple says, and now Leopard users can rest assured the products will be compatible there as well.
Widespread Demand
Increased demand for Mac-compatible products fueled xTuple's move to certify its products for Leopard, the newest version of Apple's Mac OS X, Ned Lilly, xTuple's president and CEO, told LinuxInsider.
"We're seeing increased demand for Mac OS X across the board, from customers you might not necessarily think of as Apple users," Lilly said. "In addition to high-tech fields like electronics and computers and enthusiast communities such as precision bike parts, we've got Mac users in industrial manufacturers ranging from pumps and valves to hydraulics and pneumatics. And they're all talking about Leopard."
Roughly a third of xTuple's customers have at least some Macs somewhere in their organizations, Lilly noted. "It's not a homogeneous world out there," he explained. "If companies have a mix in their environment of two or three different platforms, we're about the only thing that can run on all three."
Cross-Platform From the Start
Indeed, ever since xTuple — formerly known itself as "OpenMFG" — was founded about six years ago, "one of the most important things to us from the get-go was being totally cross-platform on both the client and the server," Lilly explained. "We see the Mac as a very strategic platform, and it has always been a pretty big part of our story."
xTuple's ERP packages both include inventory management, product definition and costing, work order management, manufacturing, purchasing, sales, shipping and receiving, project management, sales analysis, accounts payable and receivable, general ledger and customer relationship management. The commercial OpenMFG product adds manufacturing scheduling, capacity planning and several other advanced features.
Both packages are fully multicurrency and multilingual, and they support a range of multilayered taxation structures.
Wave of Purchase Activity
Currently there seems to be a wave of new purchasing activity, fueled jointly by the recent releases of Windows Vista and Leopard, the increasing acceptance of Ubuntu on desktops, and the cyclical resurgence of ERP system replacements, Lilly noted. As a result, more and more consumers have been "kicking our tires," he said.
The current versions of OpenMFG and PostBooks were what xTuple certified, and that compatibility will extend to the next iteration, version 2.3, which is currently in beta and due out in the next few weeks, Lilly said.
"I think this really underscores the fact that the open source movement is going through a series of fits and starts," Albert Pang, research director for enterprise applications research at IDC, told LinuxInsider.
Hedging Their Bets
"It's a recognition of the diversity of the technology infrastructures out there," Pang explained. "Certain operating systems are still very instrumental, and extending into the Leopard environment will allow xTuple to pick up some incremental revenues and additional customers."
In a sense, xTuple is hedging its bets, Pang concluded: "This will help allow customers to run their applications regardless of the underlying infrastructure."