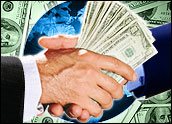 Open source software developers who were active in the late 1990s might find themselves yearning for those good old days, when venture capital flowed like wine at Napa Valley party.
Maybe they forgot the hangover that settled in once the bubble burst.
Paul Sterne, CFO of Open-Xchange, likes to point to the stock price of open source software development Web site SourceForge when talk turns to that giddy open source funding frenzy. On Dec. 9, 1999, SourceForge shares hit a price of US$320 each. On Dec. 14 of this year, they closed at $2.26.
Open source software's fall from grace was dramatic and sobering, but it wasn't alone and it doesn't mean open source is a dead industry. In fact, while investors are magnitudes more careful than they were back in the day, money is still being offered to open source companies that meet VC's often varying criteria.
Down but Not Out
Open source projects that fill certain niches can still find funding, said David Skok, a general partner at venture capital company Matrix Partners.
"It's been a pretty good climate out there," Skok told LinuxInsider. "I believe last year was actually the peak year of open source fundraising. … This year is down slightly, but not down in such a dramatic way to indicate anything else but a good appetite for funding of open source."
Skok, known for helping open source middleware company JBoss blossom (and get acquired by Red Hat) concedes there is fast approaching a time when "most of the major holes" between operating system and desktop application will be filled. That will leave little or no room for Jboss-type open source companies, but he and others in the industry said other opportunities are arising.
The new frontiers for open source companies are social networking-related applications and Software as a Service (SaaS), Sterne told LinuxInsider.
"The appetite now in the venture community is to identify companies, like ours, that sell open source products into the Software as a Service environment," Sterne said. "In the last year, we sold 2.4 million seats of open source software into the Software as a Service space and that is of great interest to the VC community."
Alex Fletcher, principal analyst with open source analyst firm Entiva Group, called the market for open source venture capital "promising yet still emergent" with the good news being that "enterprises have already accepted the open source value proposition and are proactively seeking out open source vendors."
The Enterprise Embrace
Fletcher has seen a "notable trend of companies sending RFIs to open source vendors as part of the procurement process." This has changed over the course of 12 months, noting that "last year this time they might not have even been aware of their presence" in the marketplace, he told LinuxInsider. "This bodes well for commercial open source vendors as their potential customer base is increasing from what amounted to the early-adopter crowd to one that reflects the mainstream enterprise buyer," said Fletcher.
However, there is some stiff competition, and no VC is willing to take a chance funding an open source company that cannot present a convincing case for its potential success. Some VCs, said Skok, are more cautious than others.
"What I'm looking for is definitely a higher standard than other VCs," said Skok. "I'm looking for clear proof of adoption in the form of a significant number of downloads. I'm looking for a great team."
He is more interested in a company that has "a remarkable ability to innovate technically" than he is in one that has less technical savvy and a management team already in place. It's better to add solid management to a team of strong "technical founders," Skok said.
Show Me the Money
Additionally, a "clear business plan" is something very difficult to find in the world of open source software. One good example, openoffice.org, is a "great product with tremendous adoption with great founders and a great management team," but Skok said he wouldn't invest in it because "it's almost impossible to see how you can make money."
The key, therefore, is to be able to give away a product but also show how you plan to "find some small, or large enough, subset of customers willing to pay for something else," such as support, updates or indemnity to go along with the software.
"This is a big problem with open source," he said. "It's free or low cost and that represents a huge cost for a VC because a VC is in business to make money."
An open source company's ability to reach profitability early on isn't necessarily essential, Skok said.
"I'm willing to work three or four years before that," he said. "I'm more interested to see if they can really grow revenues."
He also doesn't like companies that talk about exit strategies.
"I'm different from other VCs here," said Skok. "Others may be much more focused on having a clear exit, but if you focus on exits, they won't happen. People can smell from a mile away a company that's being built the wrong way just to be sold. That's not how you build great companies."
Make Waves, Not Buzz
Perhaps because they learned their lesson in the '90s, today's VCs do not easily fall for hype, said Fletcher.
"They are looking for a viable opportunity to take a company that happens to be open source to market successfully," he said. "Smart VCs aren't fooled by the open source buzz effect that relies on the open source model to transform otherwise marginal companies into world-beaters."
To a large extent, the same metrics that apply for funding proprietary, non-open source software ventures are at play in the world of open source, he said.
"VCs still want to know that a product company, open source or otherwise, has the opportunity to make waves in the marketplace with an excellent go-to-market strategy and quality execution," said Fletcher. "Overall, the money will continue to flow as open source software further penetrates IT infrastructure, beyond the operating system, application, and database layers."