Adobe Photoshop Touch is available for US$9.99 at Google Play.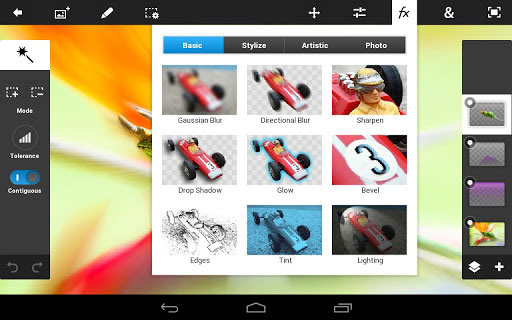 With tablets possibly on track to overtake PCs within a few years, one might wonder just how that's going to happen. Can tablets really perform as well as PCs in professional environments? Who are they trying to kid? I for one am still unpacking my laptop when it comes to power applications like imaging.
Well, Adobe claims it now delivers its core Adobe Photoshop functionality in an app for Android tablets — and looking at the feature specifications, it might be on to something.
I decided to take expensive Adobe Photoshop Touch out for a hard-nosed run, and I wasn't just going to be fixing a few vacation snaps.
Task 1: Fail
I needed to identify the dots-per-inch pixel count on a scanned image I received from an archive. It was for a family member's book cover. I happened to know that the printer wanted a certain count, and I needed to verify it — or we would have to go back to the archive and get a rescan.
This was a bread-and-butter task that desktop versions of Photoshop, including the stripped-down consumer-friendly Photoshop Elements, could handle before breakfast. Could Adobe Photoshop Touch?
Unfortunately, the answer was no. It couldn't even read the format — in this case, common printer-friendly PDF or a pro TIF copy I made.
Hmm. Maybe it was time to edit some vacation images.
Task 2: Redemption
It was there that the app performed well — superbly, in fact, due to Instant Fix. If you're familiar with Photoshop Elements, you'll know that there is a magic button hidden away in a menu item labeled "Enhance."
That button is called "Instant Fix," "Quick Fix," "Auto Smart Fix, or something similar, depending on the version.
It's a miracle worker that adjusts color and tone automatically and turns washed-out images into vibrant color- and tone-corrected masterpieces. Well, Adobe Photoshop Touch includes this magical correction tool, and that alone is a reason to get the app.
I was delighted to find Instant Fix included, and I would have been happy to conclude the review, add the app to my arsenal, and move on to other things. However, Adobe put a lot of features into this $9.99 app, so I carried on kicking the tires.
Features Galore
The feature-set is comprehensive — and for the price, it should be. A secondary killer feature — behind Instant Fix — is the easy masking of background images using a scribble selection tool.
Scribble is new in Photoshop Touch.
Other features include desktop-like filters; adjustments that include saturation, levels, contrast, curves and so on — just like the desktop versions; image size, but notably not dots-per-inch; layers; selection tools; and fills.
Things you can do post include painting with effects, replacing colors, sketching, creating a frame, adding people, antiquing images, cleaning up backgrounds, image blending and tilt shifting — all of which include tutorials. There is also a style gallery to browse for ideas.
Cloud is well integrated if you're content with Adobe's cloud product, but the app includes just a minuscule 2 GB. Importing from Dropbox was a nightmare, although doable.
In Conclusion
Once you've accepted the fact that this Photoshop Touch isn't the app version of a five-person graphics studio and that it's designed primarily for manipulating images, then this app is a player — and a good one at that.
However, by not differentiating its product as one with hard-core features for graphics pros — like Web asset creators or printers who'd rather use a tablet than desktop — Adobe places itself in the middle of a crowded market of free photo apps.
Still, this one is the most comprehensively featured post-imaging app — and indeed it's possibly superior to the desktop version with the addition of a new background-masking scribble tool.
Want to Suggest an Android App for Review?
Is there an Android app you'd like to suggest for review? Something you think other Android users would love to know about? Something you find intriguing but aren't sure it's worth your time or money?
Please send your ideas to me, and I'll consider them for a future Android app review.