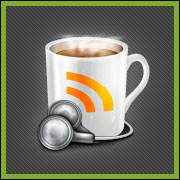 BeyondPod Podcast Manager,a mobile app from BeyondPod, is available for US$6.99 at Google Play.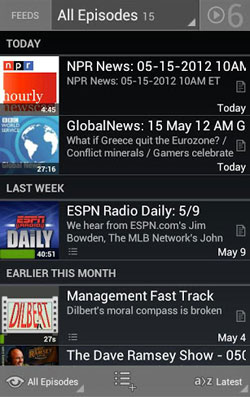 I was horrified by the prospect of Google's Listen podcast manager app for Android beingdiscontinued when I first heard the news some months ago.
The idea of having to find again, pay for and then configure an alternative podcast appwas annoying. I could really think of better things to do with a few bucks and my time –like buy a coffee — than mess around with a replacement podcast management app that would no doubt be tedious and frustrating.
This was partly due to the fact that I had settled on podcast manager app Listen, an appchosen because it kind of worked and was free. It was also partly because every podcastapp I had ever tried — from the early Windows Mobile smartphone days to the Android present — had never really worked properly and took days to verify working functionslike downloading.
Why was I going to be spending time and money on something that was likely nevergoing to work as intended — that is, download podcasts overnight so I could listen to themoffline?
Multiple Fails
I've lost count of the number of times I've grabbed my shiny phone in the morning,jumped into the gas guzzler and set off on a network-starved canyon commute only tofind the anticipated podcast hadn't downloaded overnight as it was supposed to,or wasn't streamable. Multiple phones, multiple podcasts, multiple apps.
I'd even taken to manually kick-starting podcast downloads on waking in bed in the early morning in a sleepy, often-futile attempt to solve the auto-download or failure to stream problem while still within range of WiFi.
It was a pleasant surprise when, after a bit of scrambling — as Listen finally andquite rightly descended into the discarded app ether as abandonware — Idiscovered that BeyondPod actually works.
BeyondPod Podcast Manager, published by the BeyondPod team, is a steep $6.99 in theGoogle Play store — a major investment after paying zilch for so many years. Still, if itworks, which it appears to do, this may well be one of the best $6.99's I've ever spent inGoogle's virtual cathedral to consumption.
What Are They?
Podcasts, for those unfamiliar, are prerecorded snippets of audio or videomedia, often episodic, that are available for subscription. The chunks are delivered as a feed, and thepodcast manager is used to poll the feed and download or stream the media.
The downloadable nature of podcasts makes them great for offline media consumption — that is, when the podcast manager is up to the task and actually does the job, as Listen sooften didn't.
In Control
I'm pleased to say that this app works flawlessly.
BeyondPod features include the ability to select how many episodes todownload, as well as how long to keep them.
This can be accomplished for individual feeds — useful in the case of serial-following — oralternatively, news. For example, keep only one audio of a nightly news broadcast forcatching up with in the morning, plus multiple episodes of a favored radio show.
This control functionality becomes almost obsessive once you get into it. For example,you can update single feeds manually or in categories; set specific download times;download when connected to WiFi and not cellular service, and so on. You can turn WiFi on fordownloading and then off on completion.
Beats Listen
Podcasts are tracked, so you know what you've listened to. Categories like news orshows can be generated, and podcasts can be deleted automatically when you've finishedlistening. The usual widgets are available, as is integration with Google Reader — one ofthe few features in Listen that made it worth keeping for all those years.
A confusing purchase process — or perhaps my inattention — caused me to download the phoneversion on my tablet. At least I have matching versions onphone and tablet now. However, despite now knowing there is a prettier tablet version,and after spending many hours configuring BeyondPod for phones on the tablet, I'm notmigrating. Sorry, you can lead a horse to water, but you can't make it drink.
Overall, I have no complaints, with the exception of a marginally unresponsive and glitchy playbutton — but a full playlist is sitting there each morning, and I couldn't say that withListen.
Want to Suggest an Android App for Review?
Is there an Android app you'd like to suggest for review? Something you think other Android users would love to know about? Something you find intriguing but aren't sure it's worth your time or money?
Please send your ideas to me, and I'll consider them for a future Android app review.
And use the Talkback feature below to add your comments!