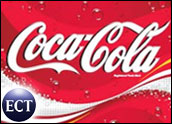 Coca-Cola has opened CC Metro, the soft drink maker's island located in the There.com virtual online universe. Coke announced the launch of the new community created by Makena Technologies, founder of There.com, Thursday.
Whether Web surfers will line up to play around in what amounts to a Coke-themed virtual amusement park — or whether the venture will go as flat as some other corporations' previous stabs at online worlds — is questionable.
With the grand opening of the There.com location, Coke has shuttered its original virtual site, Coke Studios.
"With the increasing sophistication in the digital world and virtual environments, we knew it was time to create a richer, more life-like experience for MyCoke.com members," said Carol Kruse, vice president, Global Interactive Marketing, The Coca-Cola Company.
Virtually Branded
CC Metro's bottle-shaped continent marks the third time the world's No. 1 beverage company has rolled out an interactive site for its line of Coke products. In 2001, Coca-Cola became one of the first major brands to launch its own virtual world with Cokemusic.com. Coke Studios, accessible via the company's MyCoke.com site, hit the Web nearly five years ago. It was among the first consumer product sites to offer visitors an online virtual world experience.
With its There.com location, the beverage maker can offer Coke fans a fully interactive and immersive experience in 3-D.
"There.com offered the flexibility, technology and collaboration we needed to create the kind of multidimensional virtual environment we envisioned for the next phase of Coke Studios," Kruse continued.
Initially open only to members in the U.S., the interactive site will offer visitors a variety of activities with music, gaming, entertainment and sports, including the chance to try their luck at Coke's skate park and refine their hoverboard skills. There is also a theater featuring exclusive videos and a music mixer where visitors can craft their own beats and lay down a track.
Members will also be able to connect with people in CC Metro. They can socialize with other members using There.com's chat and Voice over IP (VoIP) services or head for parts unknown and explore the There.com universe.
Coke hopes to offer CC Metro members an interactive social networking experience mixed with the opportunity to check out exclusive content tied in with the company's real world associations and sponsorships with American Idol, NASCAR and the Olympic Games.
Users will also find favorites such as My Coke Rewards, the online rewards program, on CC Metro where they can swap their points for virtual merchandise. They can also purchase There.com's virtual coinage, Therebucks, and go on a virtual shopping spree, picking up clothing and accessories for their avatar as well as property, pets and vehicles.
Virtual Waste
Coca-Cola joins an increasing number of major brands who have set up shop in the Internet's virtual worlds. There.com has struck similar deals with Toyota for its Scion automobile as well as Hearst's CosmoGirl. A partnership with Capitol Music announced in June will bring the label's music artists into the virtual world. Meanwhile, Second Life, the leading online virtual world, has inked deals with Adidas, Dell and the Reuters news agency to advertise and sell products.
However, while marketing in a virtual world seems to be the flavor of the month for interactive marketers, the most Coca-Cola can hope to gain from it is the attention it has garnered with the launch.
"A number of companies seem to think that this is a really good marketing vehicle in its own right. They think it is a really hot thing for users, that they're going to be a lot of people on those virtual worlds and [those people] are going to visit [the companies'] online presence en masse," Karsten Weide, an IDC analyst told LinuxInsider.
"The reality is, that is not happening. There is an initial curiosity and people visit in the beginning, but this quickly wanes, and then essentially these online shops are dead," he explained.
"[Coke] will get more distribution on There.com than they would get on their own Web site. But the fact of the matter is it is fairly slow and cumbersome to use. I don't know how well-informed Coke was about marketing in virtual worlds. I give them the benefit of the doubt and think that there are really smart people there and that they knew the most they would get out of this is a good press release," Weide concluded.
Virtual worlds are most suited for education with virtual classrooms, simulations or online meetings, according to Weide.
"The commercial applications of virtual worlds beyond providing entertainment are fairly limited," he concluded. "Marketers always try to find ways to seem cutting edge and be hip or modern, especially with a young demographic. Even when a Coca-Cola presence on There.com might not have much of a direct marketing effect, it does provide a good press release and some good buzz in the media. That's mostly the reason why they do it."