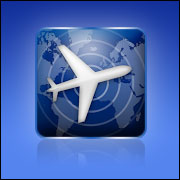 FlightTrack,a mobile app from Mobiata, is available for US$4.99 at Google Play.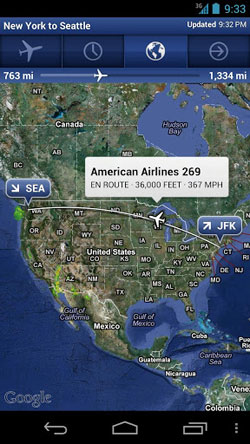 Keeping track of airport information can be a challenge even for a nonstop, there-and-back trip. Multiple legs increase the number of things that can go wrong geometrically, but I recently took the risk, in a week-long loop from Los Angeles to Los Cabos, Mexico, then to New York City (Newark, to be precise) and back to Los Angeles.
In other words, I had an ideal test environment for Mobiata's FlightTrack app, but to make things even more interesting, I would be meeting family members arriving on an international flight at Los Angeles and doing the same domestically at Newark.
Confusing Choices
The day started quietly, and then I got up.
My first task in this convoluted journey was figuring out the different versions of FlightTrack sold by Expedia-owned publisher Mobiata. This was a major head-scratcher and a good lesson in how to annoy harassed and busy travelers with bizarre, time-wasting attempts at upselling.
Here's what I found: Flight status and mapped flight tracking is included in the free version, but here's where Mobiata's upselling gets complicated. In addition to the free version, called "FlightTrack Free," there's a $4.99 paid version called "FlightTrack" and yet another $4.99 paid version called the "FlightTrack Pro Upgrade." Then, to guarantee confusion, there's the $3.99 FlightBoard add-on.
Bemused, I allocated a budget of 10 bucks and dove in. I bought FlightTrack ($4.99) and FlightBoard ($3.99). Feeling brave, I omitted FlightTrack Pro ($4.99) from the travel arsenal.
It became apparent that terminal maps and Tripit syncing are all that's included in the Pro upgrade; as I already had a free GateGuru app with terminal maps and I don't use Tripit, I wasn't missing anything.
Testing in the Terminal
First up, the parental units arrived by friendly skies at LAX — and score one for Mobiata for its FlightTrack app.
The flight was a couple of minutes late, and the FlightTrack app flight panel indicated this correctly. Terminal and gate details were usefully included in the display, as was a flight delay forecast. It would be nice to see baggage claim information — but hey, the terminal number alone was worth it.
Things got more interesting for me later in the week on the Los Cabos leg, when the airline failed to come up with any planes — for four and a half hours.
During this time, the airline was claiming delays of under an hour via emails and its airport screens, but FlightTrack was correctly estimating a much longer delay, calling first for a three-hour wait and then the full four-and-a-half hour delay.
The airport screens caught up much later; absolutely brilliant work by the app. Score two.
FlightTrack proved extremely useful on the rest of my journey, advising me of terminals and gates in advance of arriving at the airport. This provides a warm, fuzzy and secure feeling by filling an information gap. Airlines often don't provide gate numbers or even terminals in advance. Score three.
Sister Less Successful

FlightBoard,FlightTrack's companion app from Mobiata, is available for $3.99 at Google Play.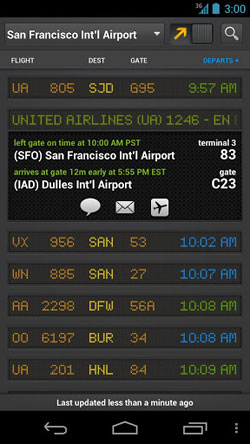 I found FlightBoard, which displays departure and arrivals boards for any airport in the world, less useful. Unfortunately, it uses dot-matrix graphic scheme that is difficult to read on the run.
This style mimics the display boards at Charles de Gaulle Airport in Paris, according to Mobiata. Perhaps, but we've come a long way since 1974 in graphic readability. Orange and black dot matrix screens may look great with disco pants, but that's about it.
Tripadvisor's SeatGuru link was also provided with my purchases. It was wrong on just one occasion, by incorrectly advising me that my plane from Los Cabos to Newark would not have individual screens.
In Conclusion
I came to depend on the FlightTrack app during this holiday week, but a more transparent explanation of the different app versions that Mobiata offers is needed.
FlightBoard provides the same data as FlightTrack — just in a different graphic representation, and I would have preferred to spend that part of my budget on FlightTrack Pro's terminal maps.