Flipboard: Your News Magazine, an app from Flipboard, is available for free at Google Play.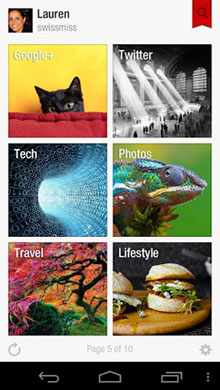 With its brand-new, tablet-friendly version, Flipboard takes online news reading to a sybaritic new level — the bigger screen, along with Flipboard's elegance, surpasses poky smartphone screen real estate, and anything that has come before.
Flipboard pulls together social media, news, and website feeds into one aggregation.If you're used to RSS feeds, where multiple sources are compiled into one readableinterface, you'll understand the concept.
Where free app Flipboard excels is that it takes the whole RSS feed concept one step further in terms of look, features and content.
Tweet Collector
First up, Flipboard gathers your Twitter news feed and integrates it seamlessly into the app.
In addition to this neat trick, each tweet also includes one or two paragraphs of thelinking article, where necessary. This is in the case of tweets greater than the usual 140characters.
For example, when a news source like a newspaper publishes a story to Twitter,the text is restricted to 140 characters — the maximum tweet length permissible. Theremainder of the text then has to be provided in a link, similar to the way an RSS feedcommonly provides only a teaser, with a click through to the body.
However, Flipboard cleverly chops the screen into two sections: one section containingthe 140 character maximum tweet; and the second section containing a few paragraphs ofthe text body derived from the tweet's embedded link to the rest of the article, usuallyon the property's website. This is a clever and unbelievably simple solution to a longstandingreadability issue.
News Sources
Flipboard integrates with established news sources like USA Today, The New York Times, as well as other news aggregators, such as RSS readers like Google Reader, essentiallypouring your Google Reader or other feed into Flipboard.
However, as with any other RSS reader, Flipboard doesn't pre-fetch the full XML's bodytext — just headers and whatever text snippet the publisher want to share to entice you.
Unlike with Flipboard's Twitter feed, RSS body is delivered with a tedious further click.
Read Later
Read later services like Pocket are also included. Cross-platform Pocket and others letyou browse Web-based pages and articles on a PC, for example, and tag them for readinglater.
You can then retrieve the pages cross-device, including within Flipboard itself.
Flipboard content can also be tagged in this way.
Social Networks
Besides Twitter, social networks and blogs like Facebook and 10 others can be fedthrough Flipboard.
The list includes Instagram and LinkedIn. Search functionality alsoexists cross-social network, and hashtags are searchable.
Pictures and Video
Flipboard aggregates picture collections like Fotopedia, and a "staff picks" section allows customized picturecompilation — say "the year in photos," or sports shots and so on. Worth a gander.
I discovered Flipboard pick Patternity, a collection of images ofpatterns found around the world and in the wild. That — along with a unique flip-styleway of scrolling and viewing my subscribed You Tube videos — kept me occupied.
Creating an optional account allows for synchronization of chosen content sources acrossdevices, say phone and tablet — although strangely, there's no PC version.
Look and Feel
Flipboard is aesthetically pleasing.
The personal magazine style is comparable inshiny good looks to mosaic news-wall pagemaker Pulse News; Google's own elegantmagazine-style Currents app; and tablet-friendly and Google Reader-only magazine-styleFeedly, all of which also aggregate news feeds.
In Conclusion
The sleek look and feel of Flipboard stands out even more in the newly released tablet version. Lackof a tablet version had been a glaring omission. In many cases, the phone version didn'tinstall on tablets, and when it did, it formatted text incorrectly.
Couple a 10-inch screen with animation that replicates a tactile page flip and pre-fetched, well curated content — and Flipboard, you've got something here.