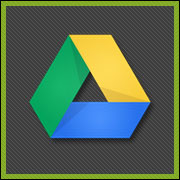 Google Drive for Android, an app from Google, is available for free at Google Play. Keep Everything. Share Anything.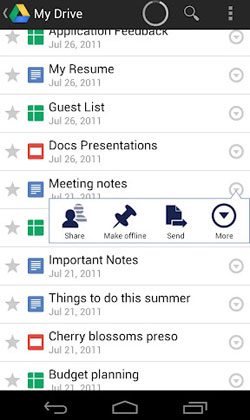 When a company like Google uses a tagline that includes the words "share anything" for a Dropbox-like cloud file storage system, my immediate reaction is "with whom?" Google, after-all, is a company that's made its money delivering ads based on what it learns about our habits.
There's been debate about this very question since Drive launched, and media reports have suggested, based on the Drive terms and conditions, that Google is claiming to license Drive users' files.
Google denies any evil intentions, because cloud-based storage systems need to have some kind of license to hold and display our stuff — that's why it needs the license.
In any case, Google needs to be pretty transparent about what it intends to learn, if anything, from documents, images and videos that it's entrusted with.
I'll leave this question to legal experts for now, who will do a thorough job finding out what the deal is, and get down to a thorough review of the app.
Already There
I was surprised to find during a search for Google Drive on the Google Play store that it was already installed on my device — particularly in light of the media questions about Drive's possibly vague terms of service. I didn't remember ever having agreed to any Drive terms and conditions. It turns out that the app is an update to Google Docs, which I have already used extensively.
In fact, on launching the free Drive on my tablet, the app flashed a Google Docs screen at me and then said Drive wasn't ready for me but I would get an email notification when it was. It then redirected me to older Google Docs. That was Friday afternoon.
By Monday morning, I received confirmation of readiness from Google. Consequently, I'd suggest not deploying Drive in time-sensitive situations.
5 GB of Free Storage
Google provides 5 GB of free storage, which is more than Dropbox's offer of 2 GB free with additional storage per referral, but less than the 7 GB free offered on Microsoft's SkyDrive. Google Drive compares with Apple's iCloud at 5 GB, though.
In fact, the more I went through the offering, the remarkably more like DropBox this app appeared to be.
Playing Catch-Up
The momentum that old-timer Dropbox has gained in its integration with other apps means Drive is likely to have a bit of app integration catching up to do.
If you've been using Dropbox's tight Titanium Backup Pro functions — the backup gold standard for Android — you'll be pleased to hear Drive is integrated there already, and you can use Drive to sync and back up your Android OS-related data.
Camera Uploads
However, the no-brainer and super-useful Dropbox function that lets you automatically upload Android camera photographs to Dropbox, as you take them, is missing in Drive.
Drive does include regular sharing options, though, and you can take a camera photograph and manually "Share" it to Drive.
User-Friendly Interface
As with all of these handheld device cloud storage solutions, maximum benefit is obtained if you download the PC version too. That way you can perform a lot of the administrative tasks in an uncramped interface. Google's Drive installed without a hitch.
All of the expected Drive functions and respective tasks worked flawlessly across all of my devices. Files appeared across devices, and the UI was easily comprehensible.
In Conclusion
Overall, I was hard-pressed to tell the difference between Drive and other cloud solutions, in particular Dropbox.
The gaping omission of the automatic camera upload functionality — which arguably is a niche feature — and the lethargic manner in which Google spent an entire weekend setting up Drive for me earned it four stars rather than five.