Noinnion'sgReader Pro app for Android is US$4.99 in the Google Play store.Now that Google's wildly popular Google Reader has been switched off for good, what's everybody to do?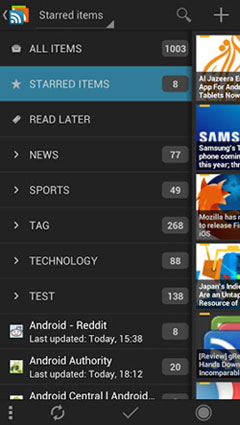 Google Reader was popular for a reason: It was fast, and it allowed news fans to rapidly assimilate news, synced cross-device, using a super-efficient visual RSS headline-only scan.
The lack of lofty white space in the Google product and the crammed-in text housed in tightly packed headers are unusual among newer magazine-style and visually rich apps like Flipboard, Pulse and Feedly, which have taken original — and quite clunky — RSS technology and wrapped it into striking, colorful news walls and sumptuous graphics-laden panels.
Those iPad-influenced designs look great, but they're inefficient for professional news consumers' scanning habits.
Here's a look at gReader Pro, a serious Android Google Reader replacement.
No Desktop Piece
First up, all of the available Google Reader substitutes have problems of one kind or another. Feedly, for one, has replicated the Google Reader experience superbly on the desktop via plug-ins, but the native Android app in classic Google Reader RSS mode is clunky.
This is a universal issue at mobile: Google Reader clones and browser-only services like Reedah and the Old Reader render slowly on mobile browsers.
So, here's gReader's problem: There's no desktop browser environment. If you do much of your scanning on phone and tablet and mark attention-grabbing articles on your mobile device for later in-depth reading on the desktop, as I do, it won't work — you have to use a read-it later service.
What gReader does do, though, is provide a fast experience within Android.
An Android-Only Solution
Some strong features — features that are in some ways superior to what the original Google Reader offered — include offline reading with full article content, save to Pocket and other read-it-later services.
Unfortunately, I haven't found one RSS sync solution yet that works well on desktop and Android tablet. gReader works okay within Android — because that's its only environment; Feedly is fine for desktop.
In my testing before the Google Reader shut-down earlier this year, I was able to mark Google Reader articles in gReader for Android while on the road and view them synced on a roomy desktop through Feedly's desktop Google Reader client back at base.
Want to Suggest an Android App for Review?
Is there an Android app you'd like to suggest for review? Something you think other Android users would love to know about? Something you find intriguing but aren't sure it's worth your time or money?
Please send your ideas to me, and I'll consider them for a future Android app review.