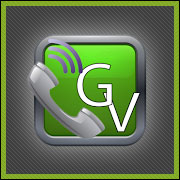 GrooVeIP is available for US$4.99 at Google Play.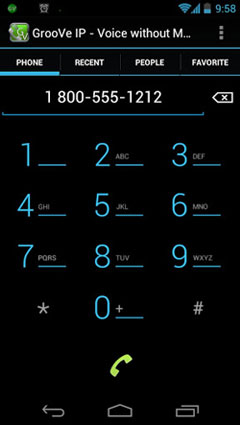 My first question to the desk clerk on arrival at a hotel in a strange country is no longer, "What time does the restaurant close?" It's more often, "Where I can get a SIM card?"
Two-dollar-a-minute voice and 10-dollar-a-megabyte Internet roaming in many parts of the world make acquiring a local card a must.
I recently had a pleasant first morning strolling around an Egyptian town center haggling for a data-only 3.75G SIM card. I paid — or rather overpaid — about 30 bucks for four megabytes, which was plenty for a week's Skype Internet calling, Dropbox camera uploads (lots of camels), and continuous Internet browsing.
Skype worked well over 3.75G, and at $0.023 a minute to U.S. numbers, $10 of Skype pay-as-you-go credit lasts.
However, on return to the U.S., I think I might have found a better voice calling solution — and that's Google Voice with Android app GrooVeIP add-on.
Google Voice
I'm a long-time GV user, and I like its zero-dollar rate for U.S. numbers, and cheaper-than-Skype overseas to-mobile calls — for example, $0.10 to call a UK mobile versus Skype's $0.26.
However, the drawback is that on a mobile device like an Android phone, GV voice calling only works over U.S. mobile networks and not WiFi, so it's not functional outside the U.S.
Android app GrooVeIP routes GV over either a mobile data network — if the network supports IP calling — or WiFi.
You should thus be able to make and receive overseas GV calls using a local data SIM card or free hotel WiFi.
Zero-dollar rate calls to the U.S. and Canada from anywhere — that's pretty amazing when you consider roaming or hotel calling rates, which were about $4 a minute, in-room, at my Egyptian lodging.
I look forward to trying it next time out.
Plan Minute Savings
Where GrooVeIP has already proved itself for me, though, is here in the States. Because it routes GV calls over data or WiFi rather than the voice network, it doesn't use up plan minutes. Therefore, you shouldn't need to buy a contract with copious minutes. The minimum theoretically works, because all your calls are going over data of some kind.
I've been stung a few times in the past going over my contract plan limits, and GrooVeIP should stop that. In fact, you shouldn't need a network voice calling plan at all — just data, if IP calls are allowed, or WiFi. The app uses 1.2 MB per minute during a call, according to the publisher.
So far so good, and I've found GrooVeIP call quality to often sound better than the Sprint mobile network I've been using.
A separate dialer means you can choose on a per-call-basis between native outbound calling, or GV via GrooVeIP.
Ins and Outs
The app uses Google Voice's optional forward to Google Chat functionality to receive the calls over data or WiFi, so you must set forwarding to Chat within Google Voice's dashboard.
One thing that's worth remembering is that if you set up GrooVeIP on a phone that is already configured to receive Google Voice calls, and you set Google Voice to forward to Google Chat, an incoming call will ring the phone twice — the stock dialer will ring, and so will the GrooVeIP app. This had me flummoxed for a while, because I hadn't read the instructions properly.
In any case, I'm less interested in the one-number-rings-anywhere idea — what about time zones?
Testing It Out
Overall, during a week's testing here, GrooVeIP worked most of the time — however, not always. Sometimes it had difficulty maintaining its network connection on standby, and occasionally echoes or dropouts occurred during calls.
I plan to mess around more with the phone's network settings and GrooVeIP's settings before making this a daily driver. In the meantime, I'm looking at GrooVeIP as an economical backup tool for the kind of expensive, overage-inducing cell calls when I'm placed on hold for extended periods — calling the cable company, for example.
In Conclusion
Once you've got a free Google Voice number set up, this app makes a lot of sense. The paid version at $4.99 in the Google Play store adds calls-via-mobile-data functionality to the free version's WiFi-only. You should make the $4.99 back and then some, even using it just as a backup calling tool.
A $0.99 GrooVe Forward app is also available that is supposed to let you change GV call settings on the fly — although I couldn't get it to work, probably due to router port or firewall issues.
Meanwhile, I'm looking forward to reviewing plan-included minute needs over the next few months.