Hailo Taxi App is available for free at Google Play.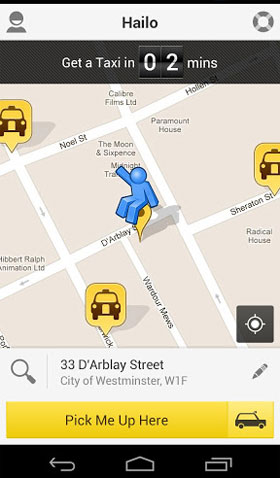 Chicagoans and Bostonians, you have a new way of hailing a cab. It's called "Hailo," and it lets you grab a taxi by app command, rather than an arm raise at the curb. Hailo is coming soon to New York and Washington, D.C., and already is available in Toronto and several European cities.
There are a few other taxi apps out there. I looked at Ridecharge's free Taxi Magic app in a previous article — I've been using it to successfully reserve airport-bound Yellow Cabs in Los Angeles for some years.
However, free, peer-to-peer Hailo is different from 45-city Taxi Magic. Whereas Taxi Magic's relationship is with fleets — like LA's Yellow Cabs, for example — Hailo's is with the individual driver.
Hailo hires drivers who already may be working for a fleet.
Regulatory approval has been slow in some markets, like New York, where an app pilot program will be launched soon.
However, drivers like Hailo, despite the fee charged them. This is because the drivers jump the queue for rides and can see where there are passengers; plus the passengers tend to be credit card and smartphone wielding, thus more salubrious than some other patrons.
Where these e-hail apps can provide value to the end-user is that the end-user can hail the cab at home, a workplace or on the street, rather than solely out on a weather-exposed street.
I took Hailo for a test drive in the UK recently. Hailo has been downloaded there by close to half of London cabbies.
The Hailo Test
After launching the app and turning on smartphone WiFi at its request — it improves inside-building GPS accuracy — I was able to view a map of my neighborhood. Your position and graphically represented taxis are displayed on the map as icons.
Icons for numerous cabs appeared nearby in my case — I was in the Notting Hill section of London — and the app displayed an ETA of four minutes. Indeed after e-hailing with the app, a cab showed up in roughly four minutes.
This was a significantly shorter period than that supplied by a classic telephone taxi dispatch system that I have used there. London's Dial-a-Cab dispatchers will always quote "up to 15 minutes" and show up sometime within the 15 minutes.
The most remarkable thing about the Hailo app however, was something I discovered upon getting into the cab after it had been sitting outside for a minute. There was nothing showing on the meter: It's usually frightening red display showed a subdued charge of zero.
That wasn't a mistake. Unlike some dispatch systems that charge expensive travel-time from when the driver accepts the ride, to the time he gets to your location — and then wait-time sitting outside — Hailo gives you five free minutes wait-time before even starting the clock.
This is a big deal. Because you know exactly how long the cab will take to get to you and that it will wait five minutes before charging you, that means any kind of harried hovering, typical while waiting for the vaguely estimated telephone-booked cab to arrive, is eliminated.
Actual Costs
My driver and I, in a post-trip, backseat consultation, agreed that the short run I took in the test cost about 50 percent less than a similar-distance trip would, booked through a conventional telephone taxi dispatcher like Dial-a-Cab.
It amounted to about a third of the cost of a non-luxury, executive black-sedan-style car service, like London player Addison Lee.
Addison Lee and Dial-a-Cab also have apps.
Credit Card Payments
I stored a credit card in the Hailo system for automatic payment — the reason being that there is no additional fee, unlike say, Taxi Magic, which charges US$1.50 for using a card.
In addition, I like the idea of not fumbling for cash, having lost many coins in surreptitiously slanted, coin-stealing, New York City taxi seats.
Tipping and Fees
Hailo lets you pre-select an automatic tip amount too — a neat trick. I chose 10 percent, the standard in London.
There has thus far been no booking fee charged to the passenger by Hailo, although New York's e-hails reportedly will be surcharged. Taxi rates are cheaper in New York.
No Reservations
A slight downside is that unlike app Taxi Magic and conventional telephone taxi dispatch systems, Hailo doesn't have any advance-booking functionality that lets you choose a pick-up time.
That downside was mitigated by the two-touch ease of e-hailing, and the fact that there appeared to be numerous cabs on the system where I was located. The more drivers in the system, the better the service.
In Conclusion
Hailo e-hailed cabs arrive quicker than those booked through conventional telephone dispatch systems, and rides are significantly cheaper. Drivers like the system too. Watch out, old-school dispatchers.
Want to Suggest an Android App for Review?
Is there an Android app you'd like to suggest for review? Something you think other Android users would love to know about? Something you find intriguing but aren't sure it's worth your time or money?
Please send your ideas to me, and I'll consider them for a future Android app review.