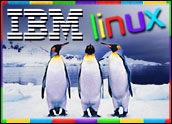 For the first time, IBM is making Lotus Notes available for Linux. The initial offering, part of version 7, supports Red Hat Enterprise Linux 4, Update 3.
The company will add a Notes client for Novell Suse Linux Desktop within three months. These are the first Linux-based business applications from IBM.
No Traction
Of course, IBM has long been an ardent supporter of Linux; for example, it has offered business partners up to US$20,000 for migrating customers from Exchange to Lotus Notes and Domino on Linux desktop, as part of its Migrate to the Penguin program. The company's full Linux client is expected to increase uptake even further.
Still, despite these initiatives, Linux has not gained the traction on the desktop that many open source devotees had hoped. That has partly been because these and other crucial applications have been missing.
"Linux is doing well on the server," explained Joe Wilcox, senior analyst for JupiterResearch, "but there remain some big gaps, and messaging is one of them."
Offering Lotus Notes on Linux "could be a nice push for Linux," Wilcox told LinuxInsider.
"No operating systems sell without accompanying applications. Look at what happened with Windows — or BeOS for that matter," he commented.
The latter was a great OS at one time, but it went nowhere because there were no related applications developed for it, Wilcox said. Microsoft, conversely, has enticed many users to its OS through the sales of Outlook and Exchange.
That said, a recent survey suggests that Linux is gaining traction as an OS despite the lack of applications; IBM's introduction of Lotus Notes for Linux could leverage this momentum.
IBM points to the survey, which found that Linux is expected to surpass Windows as the primary operating system for developing applications, according to 400 developers queried by Evans Data Corporation that are currently working with open source software.
An Easy Switch?
Wilcox expressed some doubt that there will be a great migration to Linux merely because Lotus Notes now runs on it.
"Companies don't change out of what they have very easily," he said, "so any switch to Linux wouldn't come easy."
However, IBM appears to be aiming at the small-to-mid-sized business space — at least with its initial marketing. The SMB niche is likely to be more open, considering the cost comparisons between the two technology stacks.
Features available in Lotus Notes 7 for Linux include enterprise-Level messaging system, a calendaring and scheduling system, and expanded mobile support.