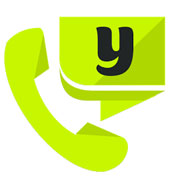 Yuilop is available for free in the Google Play Store. I know, from correspondence that I receive, that readers of this column are pretty global, spread all over the world and in some pretty distant places. That's why I was intrigued when I came across VoIP Android app Yuilop.
Here's an app that promises to provide the hitherto unknown Holy Grail of international voice and text calling: free calls to overseas cellphones, or "mobiles" as they are called where some of you are.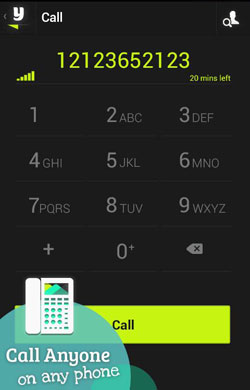 We all know about free peer-to-peer Skype-to-Skype calling, where friends and family install apps and make voice calls over a proprietary network system. We know about Google Voice, the U.S.-offered service with free U.S. domestic calls paired with its brother, the GrooveIP Android app, for full functionality on a mobile device.
We also know about permutations of the services, where it's possible to buy Skype-to-landline, or to-mobile minutes; and Google Voice international telco calling. Both are a couple of cents to a landline, and 20 or so cents to overseas mobiles.
That, in turn, is the rub. A couple of cents to a landline, who cares; for some countries, though, the 25 cents a minute at Skype and even 10 cents at Google Voice adds up.
It's not the days of the dollar-a-minute calls we saw just a few years ago, but it isn't free. And free is what Yuilop promises.
What Is It?
Yuilop is a peer-to-peer VoIP service that runs on your smartphone's data plan. Yuilop gives you a cloud-based, non-SIM telephone number that's dialable from the public switched telephone system; you can then make Yuilop-to-landline and mobile calls across the world. Your caller doesn't need the app. No money changes hands.
Topping Up
The service uses "credits" rather than cash. Credits are obtained by inviting friends to join and getting them to sign up; chatting; "top-up offers," which include downloading, installing and launching other apps; and participating in offers, which usually require you to enter personal details, like emails.Credits-gaining examples, which Yuilop calls "Energy," include 42 credits for the chance to win a free McDonald's lunch for a year — in exchange for your email.
For perspective, mobile calls tend to vary widely, costing three credits a minute for some European countries, like France; one credit for China; and 10 credits for relatively expensive Philippines. A call to an Azerbaijan mobile via Skype would cost you US$0.30, or 22 credits with Yuilop.
Testing It Out
First up, I have to say that the call quality was excellent. I heard no static, white noise or other indications of cheapskate-ery on the calls. I was also able to successfully send a text to an overseas mobile.
Unfortunately, I have to advise of huge problems in the sign-up process, including a widely reported (by Google Play store reviewers) lack of activation code. Despite numerous e-mails to Customer Service, it took days to receive, and I still don't know where to enter the code within the app — I am able to make calls though.
Or perhaps I should say, I'm able to make one call. I've already used up my app installing included 10 credits on a couple-of-minutes call to a European mobile and on the text I sent, which used up three credits. Additional credit for downloading and opening eBay's solid RedLaser shopping app never appeared in my account, and I don't want to eat McDonald's every lunchtime for a year, so I'm passing on the 42 additional credits, however kind, in exchange for more Yuilop calls.
The Conclusion
For U.S. mobile phone-terminating calls and texts in the U.S., free Google Voice, along with Android app GrooveIP, is the way to go.
If your calling is more global in nature and includes mobiles, you might want to spend a bit of time figuring out and configuring Yuilop. The developer claims 5 million users, so it should be doable. Free-to-mobile calling is a compelling proposition.
Want to Suggest an Android App for Review?
Is there an Android app you'd like to suggest for review? Something you think other Android users would love to know about? Something you find intriguing but aren't sure it's worth your time or money?
Please send your ideas to me, and I'll consider them for a future Android app review.