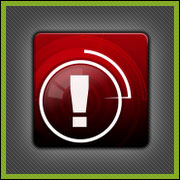 iMap Weather Radio, an app from Weather Decision Technologies, is available for US$9.99 at Google Play.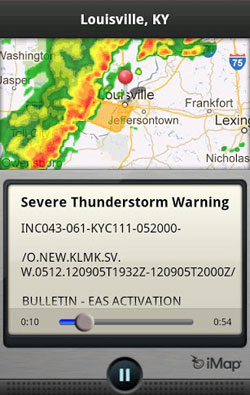 iMap Weather Radio from Weather Decision Technologies may be the first Android app-style weather-warning push product that accurately parses public safety announcements. It delivers timely alerts only to those within a geo warning box, rather than to everyone within a broad-brush area.
I've been looking for a suitable alternative to the public weather warnings-to-email thatCalifornia's Office of Emergency Services used to supply. Due to the vagaries oflocal government, they're no longer available.
I need it because I use the fire weather warning product in my volunteer Duty Officer role connected with the Non-Government Emergency Operations Center near my home — I've written about that before.
Here's where the problem is:
If you've ever had any involvement in government, you'll know that a stumbling block isthe fiefdom-like nature of it all. Each agency has its own priorities.
Crackpot System
One of the issues I've encountered in this weather alert case is that the National WeatherService, the supplier of the forecast warning, has historically used countiesand geographic zones. Zone CAZ046 and Zone CAZ246 refer to the Santa MonicaMountains, for example. State government agencies and others — the suppliers of the alertmechanism — use target areas, ZIP codes and cryptic interpretations of place.
You can't expect users to define their geo-alert using a weather service zone like CAZ046 –sometimes called CAZ246 — because they don't know it. Both civilians and pro userswant to enter locations by city name or ZIP code.
This is all completely logical. Why wouldn't the forecaster choose his forecast region-based topography — in this case, a mountain range? Why wouldn't a consumer-oriented alert supplier choose the ZIP code?
This absurd system means that you can be alerted to — and indeed awakened by –warnings that don't exactly target you geographically. Indexing is all over the place. Noone has gotten it right — that is, until recently.
Newer geographical GIS shape files are what make the improvements possible.
iMap Weather Radio
iMap Weather Radio from Weather Decision Technologies, at an expensive $9.99 in thePlay store, appears to solve some of these problems. It supplies fast, geo-accurate alerts. It uses the GIS shape files rather than counties. I've written about this GIS concept before.
On testing, it successfully delivered only the warnings appropriate to myimmediate location — which is what I wanted.
Extra Features
It also supplied a voice audio alert feed that functions like an all-hazards VHF weatherradio, which is useful, as you don't have to reach over and peer at your phone to find out what'sup.
Other features include "Follow Me," which triggers the app to provide warnings when you're outof your set locations.
Battery management seemed fair. I didn't notice the excessive battery use that can occur withfollowing or polling-type apps. A weather map is included.
iMap's Weather Radio Pro is superb if you need to get instant geo-accurate warningsand can handle the associated middle-of-the-night wake-ups — you can't silencethe app without switching off all phone notifications.
In Conclusion
The ability to set quiet times is a bizarre feature omission. Even in a pro environment dealingwith life-threatening weather emergencies, users will likely be working shifts andwill not require warnings at certain times. Absurd.
Weather Decision Technologies, you've solved the geo-accuracy issues — well done.
However, turning all notifications off, including potentially important SMS textmessaging, just to quiet your app at night isn't going to cut it for me. We're not all inTornado Alley, as you seem to think. It's your turn to wake up now — you've got a bit morework to do here.