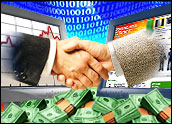 Intel and Taiwan firm Asus have teamed up to produce a line of low-cost mobile PCs with at least one coming in at under US$200. The two companies made the announcement this week during the 2007 Computex computer trade show held in Taipei, Taiwan.
The new line of computers will focus on providing users with comprehensive Internet applications based on three E's: Easy to learn, work and play with; Excellent Internet experience; and Excellent mobile computing experience, Asus said. The company has dubbed the machines, "Eee PC."
Bang for the Buck
The computers have been designed so a user can pick up the latest technology without turning to a manual, and offers two modes of intuitive user interface design: easy mode and full desktop mode.
The first model, the Eee PC 701, is Linux and Windows XP compatible and features a 7-inch screen and an Intel mobile CPU and chipset. It also includes built-in 802.11b/g connectivity, 10/100 Ethernet, a 56K modem, 512 MB of memory and a Web cam. The computer also comes equipped with built-in stereo speakers and a microphone. Users can also chose up to a 16 GB solid state flash drive.
The laptop will be sold in $199 and $299 versions; however, no release date has been set.
PCs for All
The system is just one of a recent spate of low-priced PCs aimed at emerging markets in the developing world. It joins the U.N.-sponsored "One Laptop Per Child (OLPC)," Intel's "Classmate PC," Data Evolution's decTop and regional devices such as ITP Software's ITP-C, said Lauren Cotes, an analyst at Yankee Group.
Unlike those devices, however, the Eee PC is not intended for educational purposes. Asus sees the 701 as a device that "empowers users to share photos without waiting till one gets home; connect face-to-face with just a few clicks; enjoy online entertainment live and stay on top of e-mails for high work efficiency."
Computer manufacturers, cognizant of the untapped markets in the developing world and in an effort to help bring citizens in Africa, South America and parts of Asia into the digital age, have begun a concerted push to provide those regions with less expensive computers.
The Next Billion Computers
"There are probably about 800 million or so PCs in use around the world today, and it's taken almost 25 years to get to that point," Simon Yates, a Forrester Research analyst, told LinuxInsider. "But the vast majority of any growth in the PC industry in the next 10 years is going to come from emerging markets.
"By 2015 or so, we will have reached that second billion [of PCs in use]. And that majority of users will come from the developing world."
The 701's features fit easily within the ultra-mobile PC market, however, and could very likely see success if sold in the U.S., said Cotes.
"I would compare this computer more to an ultra mobile PC than to One Laptop Per Child," she told LinuxInsider. "The computer, if you look at the specs, is pretty small. I think the demand for a laptop like this is very high in the United States."