Light Flow LED & Notifications for Android is available for US$2.49 in the Google Play Store.For years, manners have been defined and documented in easy-to-learn rules classed by geography and culture. For example, in some countries it's acceptable to make abundant noises when eating, whereas in others, eating is a matter to be taken with the utmost seriousness and is performed in stony silence.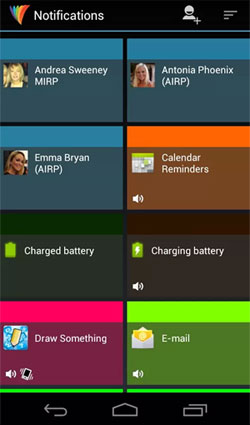 Then along came the jangling cellphone — a very loud ringtone and voice in the dining room, and an unaddressed problem generally ignored.
Until now, possibly.
We are beginning to see codes of behavior related to phones that are being adopted universally. Starting with not yelling — an early code dating back to the days of brick phones — they now include avoiding ringer noise in meetings or social engagements and not peering at the screen every few minutes when you're with someone.
Virtues, to be sure — but how are we supposed to track our increasingly smartphone-driven socially networked lives if we can't look at the screen when out at dinner, say?
Well, Rage Consulting may have an answer in its Light Flow LED & Notifications app for Android.
Light Flow lets you control the LED, sound and vibration notifications on your Android phone.
About the App
Most phones have an integrated LED for notifications. However, the often red, blue or green light tends to work only for a few things: Low battery and new emails are the usual alerts.
Rage reckons its Light Flow LED & Notifications app lets you customize the colors and have them flash consecutively — one color after another — for simultaneous alerts. It also lets you adopt varying sounds and vibrations. Hundreds of applications and system events are supported, the company says.
This should allow you, through vibration, to receive specific notifications and keep your phone in your pocket.
Testing It Out
I had intended to leave the screen — phone off, face up on the dinner table — and surreptitiously glance down at the pinpoint LED to see the different colors flashing between mouthfuls. This was clandestine behavior that I was hoping a dinner companion wouldn't notice.
However, I couldn't get the LED colors to work in succession when setting it up on my phone — just one by one. Red for one email client, then green for another.
I tried all sorts of settings permutations — not at the table, I might add — and even a rooted phone. Indeed, the developer is very clear that the app only works on some phones, and it provides a list at the website.
The developer recommends you try the free app first, just in case. I think this is a good idea.Where I was successful was in configuring the vibration patterns per app. I was able to get a unique vibrate pattern for differing email clients, in fact — work and personal.
Maybe a little less useful, but effective nonetheless, was the ability to set sounds. I successfully set up a reminder audible alert when my VoIP app kicked in on WiFi — kind of useful.
Other Features
Notifications can be set for missed calls, voice mail, calendar reminders, Gmail, email, texts, low battery, no signal, Google Talk and — importantly — Facebook and Twitter.
Third-party-supported applications also include Facebook Messenger and numerous other messaging clients.
Contacts can be tracked so that when a specific individual texts, for example, you receive a unique notification. Plus, sleep modes can be invoked for nighttime hours.
The Conclusion
Variable vibration patterns alone may make the app a good buy, LED notifications being a red herring — or maybe a green or violet one.
Want to Suggest an Android App for Review?
Is there an Android app you'd like to suggest for review? Something you think other Android users would love to know about? Something you find intriguing but aren't sure it's worth your time or money?
Please send your ideas to me, and I'll consider them for a future Android app review.