Lost Droid (Find my Phone) is available for US$1.09 in the Google Play Store. Having recently had my bicycle stolen — after having a set of wheels pilfered in a previous year — I was getting mad and, to quote the 1976 movie Network, I was not going to be taking it anymore.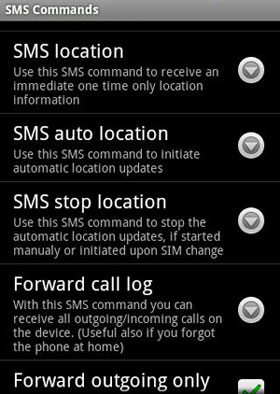 I decided to beef up my security both in general and on the replacement bike in particular. I was going to invest in some security tech.
Unfortunately, bikes are pretty inanimate hunks of alloy, and I found that there isn't much you can do in the geek department to bolster security, with the exception of better locks — which in turn have problems because the locks can end up costing more than the bike is worth.
I ended up investing in a special, hardened, rectangular-link security chain, which I've seen used in the Netherlands. The Dutch know a bit about bikes: The country being completely flat, bikes are common. Consequently they know about security too. So far, so good.
Phones are another matter. Bikes aren't swarming with communications chips, radios, battery power and interfaces, but phones are. That circuitry can be used to secure the device.
About the App
Incorporate Apps' Lost Droid (Find my Phone) grabbed my attention because it takes stealth seriously, not just tracking.
As any police officer will tell me, the after-the-fact bike-theft victim, and I'll now tell you, one of the steps you can take to stop a bike being stolen is to not leave the locks easily accessible. Better yet is to not have the bike accessible and to have it hidden, preferably inside your place.
Lost Droid not only lets you track a stolen phone, but it hides traces of the tracking app, too. This seems to me to be a good thing. If the baddie doesn't know the phone is protected, he can't remove the protection. Then conceivably you, or probably more sensibly, the police, could go and get it back — like they do with cars fitted with stealthy satellite tracking.
Plus, there's no configuration website to be hacked by a savvy thief — the app is all controlled using old-fashioned yet secure SMS text message.
Testing It Out
Testing was not all that realistic. As much as I love you all, my dear readers, I wasn't about to leave my $600-to-replace smartphone on a sidewalk fast-food-joint table in the middle of bustling Los Angeles during a Friday lunchtime while I went for ketchup, in the hope it got swiped. So, I had to replicate the testing — I'm sure you understand.
First up, in exploring the device, it's clear the developer has gone all out to hide the app from the perp. This is apparent right down to the ability to hide the launch icon in the app drawer. You have to dial a secret PIN code in the phone's dialer to launch the app.
My test was to see if the app was capable of accurately telling me where the phone was. You'd use this first probably, as soon as you found that the phone was missing. It accurately, and secretly, texted me the Google Maps coordinates, which were out by a few feet. Not bad.
The location reporting functionality, and the other functions too, are controlled using SMS commands. The owner texts the phone with secret code plus command, for example, the syntax "1234 SEND LOCATION," and the phone sends back the location.
Other commands work the same way and include "call me," "block outgoing calls," "forward call log" and so on. More extreme commands include wiping the phone. Numerous other features are included as well, such as the ability to survive a wipe on rooted phones and SIM card white list.
The Conclusion
Overall, Lost Droid is a fine offering with enough deep-down settings and commands to keep a smartphone tinkerer happy for a good while.
Want to Suggest an Android App for Review?
Is there an Android app you'd like to suggest for review? Something you think other Android users would love to know about? Something you find intriguing but aren't sure it's worth your time or money?
Please send your ideas to me, and I'll consider them for a future Android app review.