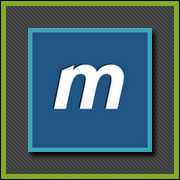 MetroFax Mobile, an app from MetroFax, is available for free at Google Play, with fax plans starting at $7.95 a month.Reports of the demise of the fax machine may be premature if research in Chico Harlan'sarticle in The Washington Post last week is to be believed.
Fax machines are still in 59 percent of Japanese homes, Harlan found. They are still popular because of a cultural interest in the use of paper and handwriting.
Well, we all know — just by looking around us — that in many parts of the world the murkyfax has gone the way of the typewriter, replaced by Adobe Acrobat Portable DocumentFormat (PDF) files attached to email.
Any fax machines that are still around are usually bundled in multifunction printers, andwere likely disconnected from their umbilical cords at the same time the landline at thatlocation was replaced by a smartphone or Voice over Internet Protocol phone system.
However, if you correspond with hold-out fax-users, hanker for the good old days, or aresimply a Luddite, there are ways you can still use this archaic technology — including one Irecently tested that works in an Android smartphone and tablet environment: MetroFaxMobile and MetroFax Mobile HD.
Plans, Options, Notifications
I chose a 500 page 30-day trial, but regular plans start at $7.95 a month and include adedicated local or toll-free fax number. There are no minimums, and the service felt legit.
Fax headers can be customized with name and number. Fax storage is adjustable from 30 to 365 days.
I was able to choose if I'd like the faxes themselves to be sent to my email account orjust the notifications. This could be an invaluable setting if you're traveling in an areawhere Internet service is poor or expensive — or both. Encryption is also available.
Other incoming fax delivery options include various permutations of plain textnotifications, first page preview, fax transmission details, and no forwarding at all.
Confirmations can be configured for failed, and also successful faxes. U.S. and CanadianSMS text messaging can be used for notifications too. I successfully set up Sprint SMSnotifications and fax copies via email.
Configuring, Testing
As with most of these kinds of mobile services, I found a roomy PC-based Web browserdashboard useful for configuring preferences. In fact, you need a Web browser to openthe account. A Web-based wizard ran me through common setup options, and I found iteasy to understand and follow.
The first test I ran was sending this thus-far written article, created in Microsoft Word,from Dropbox to my neighborhood copy shop via MetroFax Mobile HD on the ToshibaThrive tablet. Both the delivery SMS and email indicated successful delivery. Resultswere fine.
Camera Sending
I was particularly keen to try this test because it's the email differentiator — capturea handwritten note or signature with the camera, and provide a facsimile for yourcorrespondent. For this test, I used the stock camera app on a Motorola Photonsmartphone.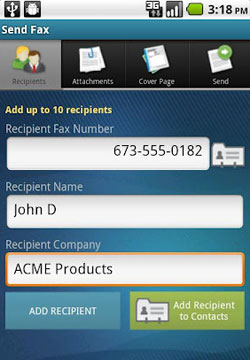 Conveniently, there is a cover page generator within MetroFax, so I didn't need toconcern myself with an illegible recipient notation caused by my doctor-wannabehandwriting. Doctors could use this app to fax prescriptions even.
Disappointingly, the MetroFax send function didn't launch from within the camera appon the phone despite there being a MetroFax "Share" option listed there. I had to capturethe image with the camera and then open the MetroFax app to send the fax.
This mock scan also cluttered up my camera Gallery, intermingling the illegible scrawlwith my chocolate-box photographic efforts. Results, however, were acceptable.
I sent a fax from the copy shop back to the MetroFax supplied dedicated number. Theresults were acceptable, if a little send-machine streaky — remember those days?
In Conclusion
The inexplicable extra step requiring me to send a fax from within the Gallery rather thanthe Camera spoiled a near perfect UI and communication experience, and this resultsin the MetroFax Mobile product receiving four stars rather than a five.
If I wanted extra steps, I would have gone for a walk in the park.