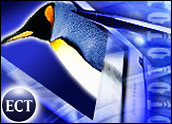 Linux has so far barely made a blip in the mobile phone market, accounting for less than 1 percent of units shipped in 2004, according to IDC. Yesterday MontaVista announced an effort to change that.
The company, which develops mobile phone software for Linux, has created Mobilinux Open Framework to gather momentum for its Montavista Linux Consumer Edition embedded software. The initiative joins chipmakers, software providers and wireless carriers to create an ecosystem around the software.
On the March
"This is a march to legitimacy for Linux," Alex Slawsby, senior analyst, IDC, told LinuxInsider. "There's a lot of promise for the Linux platform in the mobile device world, specifically cell phones. It's far more heterogeneous than the PC world, where Linux is forced to deal with the juggernaut that is Windows."
Because mobile phones are based on standards and come in lots of different flavors, it's hard to come up with a platform that runs on all devices.
"Linux has the ability to run on a relatively wide range of devices," Slawsby said. "There's a growing interest — especially in Asia — to use Linux or a combination of Linux and Java. That's an attractive combination because it has a hook for developers."
Business Strategy
The company's efforts serve its own best interest. "MontaVista clearly needs to evangelize the strengths of Linux," Slawsby said, calling the company "arguably the most well known Linux vendor in the mobile devices space."
The company is hoping to take market share from the Symbian and Windows Mobile computing platforms. Linux shipments make up 9 percent of the smartphone market, and Slawsby said that the open-source operating system is poised to gain market share, espcially in Japan, where many major phone manufacturers have thrown their support behind Linux or Symbian.
He said IDC is expecting shipments of Linux handsets to jump to 26 percent of the market by the end 2005.
MontaVista has already signed up 14 companies, including Opera, developers of the open-source Web browser of that name, and PalmSource, which will convert PalmOS into middleware that runs on Linux. Other committed companies include Java providers, software developers and processor manufacturers.